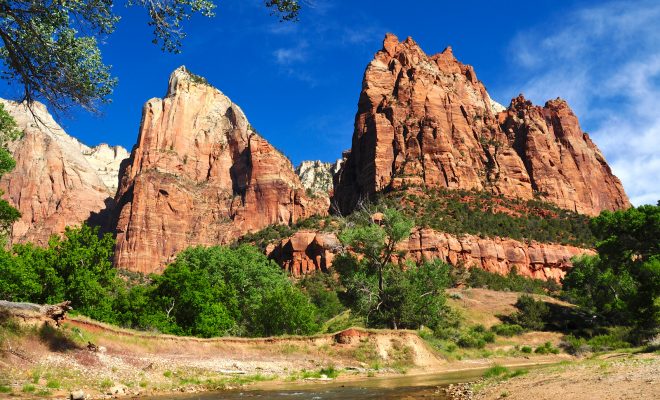 Zion National Park, Utah, courtesy of [faungg's photos via Flickr]
Weird News
America's National Parks: Now Brought to You by Corporate Sponsors?
By
|
Spread out across the United States are our 59 national parks. They include some of America's most beloved tourist attractions–like Yellowstone, the Grand Canyon, and Denali. But our parks aren't picture perfect. They cost a lot of money to keep open, and to keep in good shape. So, the National Park Service may be turning to the private sector for help–it's considering a plan to sell corporate sponsorships to companies.
The National Park Service would use these corporate sponsorships to pay for $11 billion in maintenance works that have become backlogged. Another motivation for accepting corporate money would be to make the parks more attractive to young people, although it's unclear exactly ow that work work. It's also unclear exactly what a "corporate sponsorship" would entail, given that the plan is still under consideration. While the National Park Service director has said that naming rights would not be allowed, according to the National Parks Traveler one of the changes could be:
Letting individual parks decide how to recognize donations, with restrictions against no implication of NPS endorsement, official sponsorship of the park, or naming rights. Whereas the existing guidelines prohibit donor recognition on vehicles, bricks, benches, or other park furnishings or buildings, the proposed revisions would allow recognition on vehicles if the vehicle was the donation, and would allow recognition on bricks, walkways, benches, and landscaped areas.
Understandably, a lot of people who are upset with the heavy influence that corporations already have on our lives–mainly in the form of advertising–have expressed their concerns over these kinds of sponsorships. A petition, launched by Public Citizen, has garnered over 200,000 signatures of people who are against these proposed changes. A letter written by Public Citizen outlines the reasons why the non-profit advocacy organization is opposed to the potential for corporate sponsorships in national parks, including the fact that:
Citizens are constantly bombarded with aggressive corporate advertising and influence everywhere they go; our national parks should provide a space for people to escape corporate clutter, a haven from a world where everything seems to be for sale.
While it's understandable that the idea of our parks having any sort of corporate connection could be uncomfortable, the amount of money needed to keep them up to par isn't grown on the trees of the Redwood Forests. Fear of corporate influence is founded, but now it's up to the National Park Service to decide if it should even implement this kind of funding.