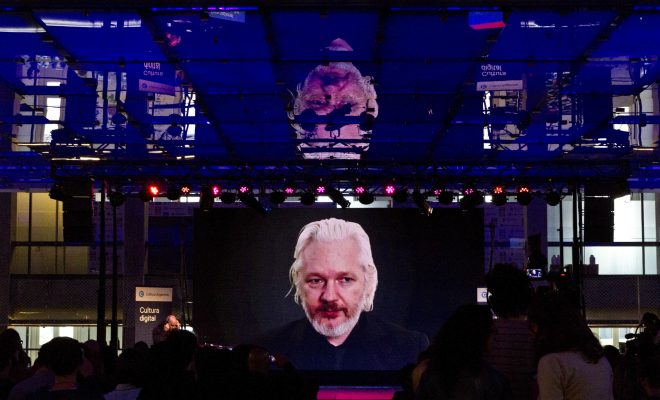 "Videoconferencia con Julián Assange - Foro Cultura Digital" courtesy of [Ministerio de Cultura de la Nación Argentina via Flickr]
Technology
What's Going on With Julian Assange and WikiLeaks?
By
|
Tweets sent out by WikiLeaks on Sunday afternoon had Julian Assange fans really concerned. The messages seemed like a "dead man's switch"–which are encrypted messages containing highly classified material that become unveiled in case someone dies. This is what the messages looked like:
pre-commitment 1: John Kerry 4bb96075acadc3d80b5ac872874c3037a386f4f595fe99e687439aabd0219809

— WikiLeaks (@wikileaks) October 16, 2016
pre-commitment 2: Ecuador
eae5c9b064ed649ba468f0800abf8b56ae5cfe355b93b1ce90a1b92a48a9ab72

— WikiLeaks (@wikileaks) October 16, 2016
pre-commitment 3: UK FCO f33a6de5c627e3270ed3e02f62cd0c857467a780cf6123d2172d80d02a072f74

— WikiLeaks (@wikileaks) October 16, 2016
These messages had Twitter users speculating that Assange was, in fact, dead.
There were also theories about what the messages actually meant. One possibility is that John Kerry is next to be targeted by a big release of classified information, considering recent WikiLeaks publications have focused on the Democratic Party specifically. According to former Trump adviser Roger Stone, Kerry has previously threatened the Ecuadorian government.
John Kerry has threatened the Ecuadorian President with "grave consequences for Equador" if Assange is not silenced @StoneColdTruth

— Roger Stone (@RogerJStoneJr) October 17, 2016
Another interesting and bizarre aspect to the story is that actress Pamela Anderson unexpectedly and uninvited dropped by the embassy on Saturday to share a vegan lunch with Assange. Some fans even speculated that she was the one who had killed him, maybe hired by the American government, by bringing him a poisoned sandwich…but that obviously seems incredibly far-fetched.
@alburyj GET ASSANGE OUT OF THERE AND INTO HIDING. How do we know that Pamela Anderson isn't working 4 someone to set up him up?

— Rosa Marzullo (@niftyrosa1) October 17, 2016
Pamela said she is an Assange supporter and that she is worried about his health. She wanted to bring him "a nice vegan lunch and some vegan snacks." But maybe he would have preferred some hearty meat. "He said I tortured him with bringing him vegan food," she said jokingly.
Finding out that Pamela Anderson & Julian Assange are friends is like watching an unlikely animal friendship video https://t.co/JnTTgrYCGg

— Gabriella Paiella (@GMPaiella) October 17, 2016
By Monday, everything pointed to Assange still being alive and well. Gizmodo speculated that "pre-commitment" in this case stands for a cryptographic plan to prevent classified and yet unreleased material from being tampered with.
The WikiLeaks Twitter account was active on Monday, also a good sign. In the early morning, it posted a tweet saying "a state party" had intentionally cut off Julian Assange's internet connection. The message went on to say that the organization had "activated the appropriate contingency plans."
Julian Assange's internet link has been intentionally severed by a state party. We have activated the appropriate contingency plans.

— WikiLeaks (@wikileaks) October 17, 2016
On Saturday, WikiLeaks released the alleged full transcripts of Hillary Clinton's paid speeches to financial firm Goldman Sachs. Many people thought the Monday cutoff of Assange's internet was revenge for messing with Clinton.
We and many others believe Julian Assange's internet was cut for criticizing Hillary Clinton. #FreeJulian

— Anonymous (@LatestAnonNews) October 17, 2016
Assange has been in hiding at Ecuador's embassy in London for the last four years, trying to avoid extradition to Sweden over a rape case, which could lead to deportation to the U.S., where he fears he would be charged with espionage. The alleged internet cutoff comes after recent news that Sweden is not dropping the charges against him, and a press conference he held via video link on October 4. In that speech he promised 10 weeks of new releases of classified material, in celebration of Wikileak's 10-year anniversary.