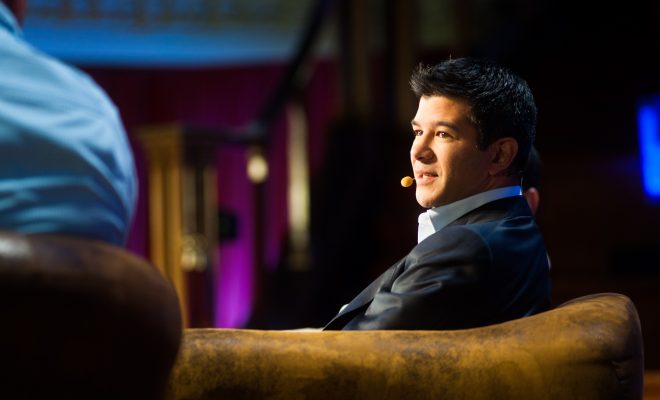 Image Courtesy of OFFICIAL LEWEB PHOTOS: License (CC BY 2.0)
Technology
Uber's Controversies Continue to Pile Up in 2017
By
|
For the first three months of 2017, Uber has been mired in controversy. Many have attributed the strife to the company's mistreatment of its employees, influenced by its toxic "bro" culture and iffy moral compass. While it's easy to brush Uber's woes off as growing pains for a burgeoning Silicon Valley tech company, its web controversies seem to point to bigger problems with leadership.
Compounding Controversies
Back in January, during the weekend of the first travel ban and successive protests, the company garnered harsh criticism for turning off its surge pricing for rides to New York's JFK Airport. The opportunistic move prompted people to delete the app in favor of its competitor Lyft.
Shortly after that, Uber's CEO, Travis Kalanick, left President Donald Trump's economic advisory council amidst criticism from the public and Uber's own employees. The company was also sued by Google for allegedly stealing a key component in self-driving car technology. Then in late February, Kalanick was caught on video arguing with a driver over Uber's fares.
Most recently, Uber initiated an internal investigation into sexual harassment and discrimination allegations lobbed at the company. The investigation was opened after Susan Fowler, a former Uber engineer, wrote a blog post outlining her disturbing experience at the company with an anonymous male executive who propositioned her for sex, prompting several female employees to also come forward.
Multiple company executives have since resigned. While Uber has reacted quickly to all of these controversies, the company's responses have been either met with criticism or overshadowed by yet another controversy.
Uber CEO Seeks Help
Following the embarrassing squabble with one of his drivers, Kalanick admitted that he needs to "fundamentally change as a leader and grow up." As a result, Uber announced that Kalanick was seeking to hire "leadership help."
In early March, Uber announced that this "leadership help" would come in the form of a new COO. But the search for this position appears to have hit a snag with the news of president Jeff Jones' resignation and a rumors of a "toxic" company culture, with Kalanick at the helm. Jones' hiring was heavily publicized by Uber, and his departure undoubtedly adds complications to Uber's future hiring plans.
In a statement released to Recode, who first broke the story of his departure, Jones said:
I joined Uber because of its Mission, and the challenge to build global capabilities that would help the company mature and thrive long-term.

It is now clear, however, that the beliefs and approach to leadership that have guided my career are inconsistent with what I saw and experienced at Uber, and I can no longer continue as president of the ride sharing business.
Dissatisfied Drivers and Changing the Company's Culture
Aside from the resignations and sexual assault allegations from employees, Uber is also dealing with more crises regarding drivers' dissatisfaction with wages. Uber drivers in some states are not allowed to accept tips and Uber's attempt to strike down a Seattle law that allows its drivers to unionize proved fruitless.
Yesterday, four top Uber officials, all notably female, conducted a media call where they attempted to field questions about Uber's shifting company culture. Conspicuously, Kalanick was not on the call, but Arianna Huffington, who sits on the company's board of directors, was.
"Uber must change if it is to be as successful in the next decade as it has been in the last seven years," Huffington said on the call. "Creating a great culture will be key to their future success. Going forward there can be no room at Uber for brilliant jerks and zero tolerance for anything but totally respectable behavior in an equitable workplace environment."
Additionally, Huffington also reiterated the company's faith in Kalnick's leadership abilities, while underlining the fact that Uber's culture had to change, and that new hires would be a focus for the company moving forward.
Uber executives have responded swiftly to each controversy; however, as we have seen with their clumsy and thwarted responses thus far, there's no real indication that the company won't stumble as it continues to move forward.