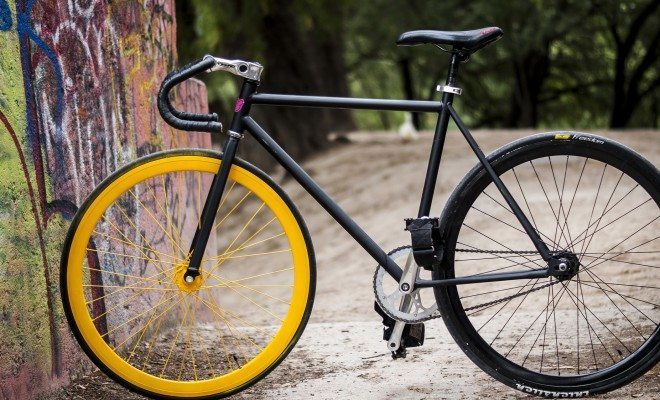 Image courtesy of [Marcos Guevara via Flickr]
Technology
Spokefly, Austin Tech Startup, Spreads Peer-to-Peer Bike Sharing
By
|
Austin, Texas is home to many innovative tech startups. Recently I discovered a wonderful peer-to-peer bike sharing startup with its own cool app. Spokefly and founder Nate McGuire are excited to provide the city of Austin, and eventually areas throughout the country, with an easy to use, technology-supported way to bike! Nate graciously agreed to an interview and I'm happy to share all the Spokefly details. If you're seeking more information, you can check them out at www.spokefly.com or tweet them @Spokefly. Prepare for the Spokefly greatness!
Spokefly, a six-month-old company, has gone live but won't be considered officially launched until it moves into an additional city. Right now the company is working to expand to DC and the Bay Area. When I asked Nate how he came up with the idea for a peer-to-peer bike share, he said he was first inspired by his friends who were able to get around Austin much faster during rush hour because they biked. After realizing how efficient bikes could be, he decided to create a peer-to-peer bike share that didn't have the same limitations as Austin's bike share. Unlike the city's program, Spokefly allows customers to browse an app and select from a variety of listed bikes, with the advantage of docking the bike at any rack throughout the city. Spokefly just changed the game.
Spokefly allows riders to use their app to reserve a bike. Available to both Android and Apple users, there will be a new release of the mobile app within the next two weeks. Once the bike is reserved, riders are given a combination number to unlock it. At that point, the rider is free to go anywhere they need to in the city. Once they're finished, they find the nearest bike rack to dock and lock the bike, and then check it in using the app on their phone. It's nice, easy, and most importantly convenient. The GPS on the rider's phone records the bike's location, allowing other users to find it. My only concern, which I shared with Nate, was the potential to have all the bikes end up in the same area; however, Nate assured me that because of Spokefly's large-scale distribution system, they are able to make sure bikes are spread throughout the city, allowing customers to always have easy access.
People interested in joining Spokefly can select one of three membership options, and can even list their bike to receive a 50 percent discount on monthly membership. Spokefly has been received very well in Austin, especially with college students. Nate was happy to announce that students with unlimited monthly memberships are now using Spokefly almost as their primary mode of transportation. I definitely see the appeal. Aside from the freedom of docking the bike anywhere, biking is already a better cost saving mode of transportation. With biking there are no costs for gas, parking, or insurance. For a monthly fee, Spokefly users with unlisted bikes don't even have to buy a bike or worry about storage or maintenance. As if Spokefly wasn't already sweet, they're also considering creating an option for app users to request on-demand public delivery.
Nate made it clear that Spokefly reviews all bikes before they agree to list them, and requires owners to constantly maintain the bikes to ensure they are safe for all riders. Because owners are responsible for providing combination locks to secure the bikes, Spokefly has a list of acceptable locks for participation in the program, and the company will refuse to list any bike that doesn't meet all safety requirements, including providing that approved combination lock.
After speaking with Nate McGuire and confirming the utility, convenience, and safety of Spokefly, I'm just waiting for it to come to DC.