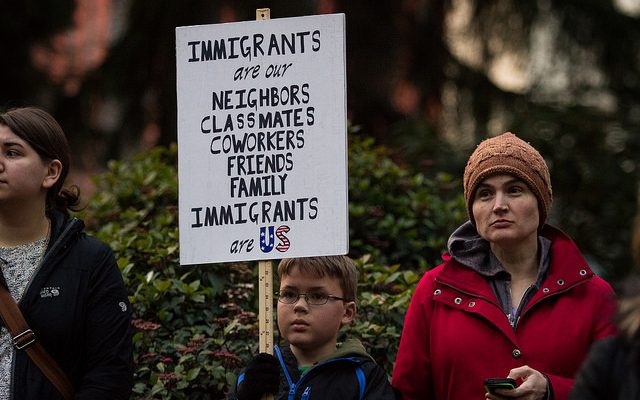 "Image" Courtesy of Joe Frazier Photo License: (CC BY 2.0)
Politics
15 Protesters Arrested at Texas Capitol in Demonstration Defending DACA
By
|
Fifteen undocumented youth were arrested in Austin, Texas on Wednesday during a protest against Texas Attorney General Ken Paxton's threat to sue the federal government over the Deferred Action for Childhood Arrivals (DACA) program, according to a statement from the protest organizers.
The protest, organized by national immigrant rights advocacy group Cosecha, brought together about 40 protesters for the first DACA-led civil disobedience action under the Trump Administration. Four DACA recipients and eleven allies were arrested after they blocked traffic by sitting in an intersection in front of the State Capitol, according to Cosecha.
"I am getting arrested today to tell my parents, my community, and the rest of the 11 million [undocumented immigrants] that no matter what politicians say, you are worthy and we will not settle for the crumbs they offer us in exchange for being the economic and labor force that sustains this country day in and day out," said Catalina Santiago, a DACA recipient who was arrested during the protest.
Another shot of the sit-in blocking traffic. People opposing Paxton's move to end DACA pic.twitter.com/V3KfkKMxMS

— James Barragán (@James_Barragan) July 26, 2017
Here's video of DACA protesters being loaded onto police vehicle pic.twitter.com/MZQ0vf2xqy

— James Barragán (@James_Barragan) July 26, 2017
DACA is an Obama-era program which allowed undocumented immigrants to remain in the U.S. if they had entered the U.S. before they turned 16, in addition to certain other provisions. Paxton, alongside nine other Republican attorneys general, sent a letter to U.S. Attorney General Jeff Sessions in June. In the letter, the attorneys general threatened to sue the federal government if Trump does not rescind the DACA program by September.
During the protest, "DACAmented" youth–a combination of "DACA" and "documented"–and allies marched through the streets of Austin chanting and singing phrases like, "One struggle, one fight, immigrants of the world unite," and "The power is in our hands. This is our state. Injustice is not welcome here."
Upon arriving at the capitol building, protesters laid posters in the middle of the intersection which read "Permanent protection. Dignity and Respect," but a state trooper removed the signs immediately. The protesters sat in the intersection as drivers blared their car horns, and law enforcement officials began arresting those protesters about 10 minutes later.
BREAKING: Support the #DACAmented youth who were arrested at a sit-in in Austin, TX this morning: https://t.co/bW7Oo3eKv3pic.twitter.com/sp8YP22Rbi

— Movimiento Cosecha (@CosechaMovement) July 26, 2017
"Best case scenario is that they don't arrest us," one protester in the intersection said in an interview with KVUE. "The worst case scenario is that we get deported and I'm willing to do that for all 11 million undocumented immigrants. Not just DREAMers, not just DACA recipients, all 11 million undocumented immigrants that deserve dignity, respect, and permanent protection."
After the protesters in the intersection were arrested, the remaining protesters continued their demonstration on the lawn next to the capitol building with chants of "Undocumented, unafraid." Cosecha live streamed the protest on their Facebook page.
Paxton's opposition to DACA is the latest in a series of state and national actions aimed at ramping up restrictions against undocumented immigrants. Texas Governor Greg Abbott signed SB4 into law on May 7, punishing local governments, officials, and police who do not comply with federal immigration laws. Opponents say the SB4 law, which essentially bans sanctuary cities, threatens the safety of undocumented immigrants and communities as a whole by placing distrust in law enforcement and government officials.
President Donald Trump signed an executive order on January 25 which enlisted local law enforcement officers to act as immigration officials to arrest and deport undocumented immigrants. In the first 100 days of Trump's presidency, undocumented immigrant arrests increased by 38 percent compared to the same period in 2016, according to data from Immigration and Customs Enforcement (ICE).
Wednesday's protest is only the most recent demonstration in support of immigrant rights. A group of 15 girls donning quinceañera gowns took to the steps of the Texas capitol building on July 19, where they danced to "Immigrants (We Get The Job Done)" and spoke out against SB4.
"We will resist through celebrating our families and our culture."

Latinas are protesting an anti-sanctuary city law, quinceañera-style. pic.twitter.com/PQgfMNF1et

— Splinter (@splinter_news) July 20, 2017
#SB4Basta Quinceañera protest. They begin by dancing to traditional music, finish w/@Lin_Manuel's Immigrants We Get the Job Done! pic.twitter.com/JJLdY2YY2t

— Alyssa Harad (@alyssaharad) July 19, 2017
The Trump Administration has taken a tough stance against immigration over the past six months. While delivering a speech to the National District Attorneys Association on July 17, Sessions said that "our goal is not to reduce illegal immigration but to end illegal immigration." But as undocumented immigrants and allies push back against policies that would negatively affect their communities, the fight for immigrant rights wages on.