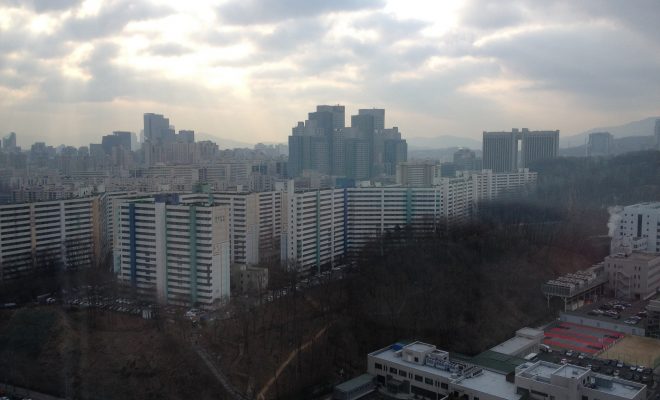 "Downtown Seoul" Courtesy of Ged Carroll; License: (CC BY 2.0)
Technology
Vice Chairman of Samsung Indicted on Corruption Charges
By
|
Lee Jae-yong, the vice chairman of Samsung, was indicted on charges of bribery and embezzlement on Tuesday. Lee is the most powerful South Korean business leader to be ensnared in the country's longstanding corruption issues, which have reached the highest levels of the government, including President Park Geun-hye, who was impeached in December.
Lee, 48, is accused of giving a $38 million donation to Choi Soon-sil, an unofficial aide to Park who has been detained for months for funneling government funds to her private coffers. The special prosecutor that indicted Lee said in exchange for his donation, Park co-signed a highly controversial merger in 2015 that ultimately consolidated Lee's hold on the company, and increased Samsung's stock value by $758 million. Lee has been Samsung's de facto leader since 2014, when his father suffered a heart attack.
"Samsung was directly linked to the influence-peddling scandal and was essential to the special prosecutor's investigation," said a spokesman for the special prosecutor that indicted Lee. "The indictment describes in detail the private conversation between Lee and President Park Geun-hye."
South Korea's economy is run by chaebols: family-run business conglomerates. In fact, the 10 largest chaebols account for 80 percent of the country's GDP. Samsung is the largest chaebol; its products make up 20 percent of South Korea's exports. For decades, chaebol leaders have been embroiled in corruption. Six of the top 10 chaebol leaders have been convicted of white-collar crimes, but have avoided jail time. 
Lee's indictment comes at a moment of political tumult and a newfound hunger for cleaning up corruption in South Korea's business and political worlds, which are often intertwined. Lee denies currying political favors with his donations to Choi. Four other Samsung executives were indicted on Tuesday; three of the four immediately resigned.
Lee is also being indicted on perjury charges, regarding a parliamentary hearing in December. At the hearing, Lee said he was unaware that Samsung's donations ended up in Choi's pockets. "President Park asked us to support the development of culture, sports and tourism," Lee said at the hearing. "I wasn't aware of Samsung's payment to the two foundations, and I was only briefed after the fact." The prosecutor apparently found evidence that Lee was fully cognizant of where his money was headed.
For the past few months, Samsung has been enmeshed in controversy. Last October, the company recalled two million Galaxy Note 7 phones, which had a tendency to burst into flames. And Park has been suspended since her December impeachment. Her case is being reviewed by the Constitutional Court, which will decide, likely in the next few weeks, whether to reinstate her or permanently remove her from power.