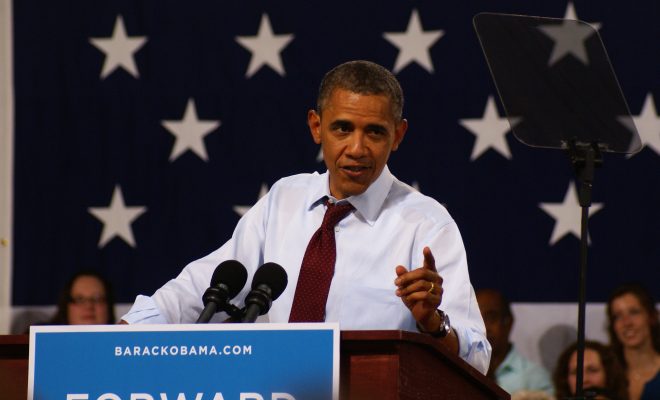 "President Barack Obama" courtesy of [Marc Nozell via Flickr]
Technology
President Obama Wants People To Move To Mars by 2030
By
|
President Obama likes space. In fact, he likes it so much that he wants people to go there–and not just to visit. In an op-ed published by CNN on Tuesday, he wrote that his goal is to have people get to Mars by 2030.
"We have set a clear goal vital to the next chapter of America's story in space: sending humans to Mars by the 2030s and returning them safely to Earth, with the ultimate ambition to one day remain there for an extended time," he wrote.
Obama says will reach red planet by 2030. #Mars pic.twitter.com/7otf3aMhgW

— michael allison (@mike9wood) October 11, 2016
And it's not only empty talk. He is already working with commercial companies on how to execute the mission. Obama said:
The next step is to reach beyond the bounds of Earth's orbit. I'm excited to announce that we are working with our commercial partners to build new habitats that can sustain and transport astronauts on long-duration missions in deep space. These missions will teach us how humans can live far from Earth–something we'll need for the long journey to Mars.
In fact, Obama has talked about space in several speeches over the years–in his very first address to the people after becoming President he promised to focus on science and space research. In the op-ed he pointed out how last year alone NASA discovered water on Mars, ice on one of Jupiter's moons, and mapped Pluto.
And Obama doesn't appear to have lost hope, even though a 2014 report from the Committee on Human Spaceflight concluded that there is not enough federal funding for space programs for humans. According to the committee's numbers, the interest for commercial investment in that kind of stuff has surprisingly decreased since the 1960s when we first walked on the moon.
It sounds like the move to Mars could be an option either for sending unwanted criminals far, far away, or to go there to get away from the disastrous Earth. Either way, Twitter users knew which option they wanted.
There are some people I'd really like to send to mars whether we figure out the whole human habitat thing or not 👍🏻 lmk

— peteachu (@petewentz) October 4, 2016
Barack Obama: Wants to send first humans to Mars https://t.co/u0XIAUeyvM Could he send the entire Trump clan first? Asking for a friend.

— Jennifer Rubin (@JRubinBlogger) October 11, 2016
The president concluded with the words:
Someday, I hope to hoist my own grandchildren onto my shoulders. We'll still look to the stars in wonder, as humans have since the beginning of time. But instead of eagerly awaiting the return of our intrepid explorers, we'll know that because of the choices we make now, they've gone to space not just to visit, but to stay–and in doing so, to make our lives better here on Earth.
In the age of global warming, terrorism, and various catastrophes, it's nice to think we have that option.