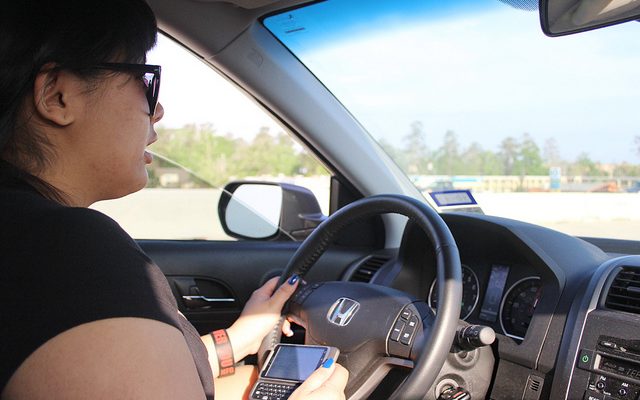 Image Courtesy of viviandnguyen_: License (CC BY-SA 2.0)
Technology
New York May Legalize "Textalyzer" to Bust Distracted Drivers
By
|
Most of you have probably done it. You hear a ding or feel that all too familiar faint  buzz, and tell yourself there's no harm in taking a quick glance at the screen–I mean it could be important. But as harmless as a quick text from behind the wheel might seem, texting while driving can be incredibly dangerous. Looking to put a stop to the trend, New York lawmakers are considering legalizing technology that would help police bust distracted drivers.
Dubbed the "Textalyzer," or Breathalyzer for texting, the device would allow authorities at the scene of an accident to immediately search drivers' phones to see if they were using them at the time of the crash.
If passed, the law would come to be known as Evan's law, for 19-year-old Evan Lieberman, who died in a 2011 head-on-collision that was later found to be the result of a distracted driver.
Evan's father, Ben Lieberman, worked with New York State Senator Terrence Murphy (R-Westchester) and Assembly Assistant Speaker Felix Ortiz (D-Kings) to introduce the bipartisan bill, which has already been approved by New York's state senate committee on transportation, but is still pending in the finance committee.
"The general public knows distracted driving is a problem, but if people knew the extent of the damage caused by this behavior, they would be amazed," said Lieberman in a press release. "With our current laws, we're not getting accurate information because the issue is not being addressed at the heart of the problem—with the people causing the collisions."
The plugin technology, currently being developed by Israeli tech developer Cellebrite, would report the exact time a phone was used, but not provide access to any content—keeping conversations, contacts, numbers, photos, and application data private.
Similar initiatives have been introduced in Tennessee, New Jersey, and the city of Chicago. However, privacy proponents worry the technology could still be used to record driver's personal information without their consent or a warrant.
"Every fender bender would become a pretense for gobbling up people's private cellphone information, and we know that cellphones typically contain our entire lives," said New York Civil Liberties Union Executive Director Donna Lieberman, who is no relation to Ben Lieberman.
According to Fortune, the proposed law states that "every person who operates a motor vehicle in the state shall be deemed to have given consent to field testing of his or her mobile telephone and/or personal electronic device for the purpose of determining the use thereof while operating a motor vehicle."
Ultimately Lieberman hopes the technology will act as deterrent for would-be distracted drivers and serve as resource for police officers to collect more extensive data on these types of situations.
"The last thing I want to do is be responsible for legislation that is going to infringe on someone's privacy," he told NBC News, "but I also don't want to bury another child."