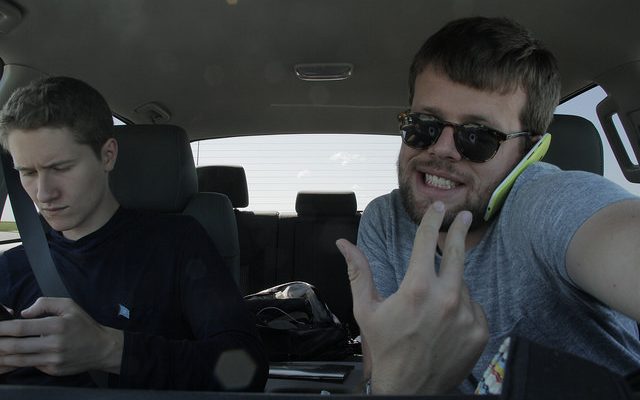 "Distracted Driving" Courtesy of André-Pierre du Plessis: License (CC BY 2.0)  
Technology
Apple Takes a Stance on Texting and Driving with iOS 11
By
|
At the 2017 WorldWide Developers Conference in San Jose, California, Apple executives gave their first preview of their new software update: iOS 11. The update will include over a dozen new tools and platforms, including a new Augmented Reality feature, an enhancement to Apple Pay, and the addition of a stylus that can be used in conjunction with the iPad Pro.
But one new feature stood out above the rest. During the keynote address, Apple introduced a Do Not Disturb add-on feature that will prevent an iPhone user from receiving notifications of any kind while behind the wheel. This includes texts, social media notifications, and news alerts. The add-on uses bluetooth and wi-fi doppler effect to determine if the device is moving within a car.
If it detects the specific type of movement, it prevents the person from receiving any notifications. The add-on must be turned on voluntarily and it can be turned off if you are in a vehicle and are not driving. And if you are worried that you won't be able to communicate? The add-on will send out an automated reply to people who text you while you're driving to inform them that you will answer them once you reach your destination.
"We think this is going to be a really important step for safety in the car," said Craig Federighi, Senior Vice President of Software Engineering at WWDC.
The update won't be released until the fall, but already people within Silicon Valley and the tech industry are praising the Do Not Disturb feature.
The importance of an Apple taking distracted driving seriously can't be overstated

— Matt Peckham (@mattpeckham) June 5, 2017
"Do not disturb while driving" will save lives.

— Benedict Evans (@BenedictEvans) June 5, 2017
Do Not Disturb while driving turns the screen off automatically. This will save lives. And probably get turned off by the teens but good.

— Matthew Panzarino (@panzer) June 5, 2017
Distracted driving has been a serious problem in the age of smartphones. According to the National Highway Traffic Safety Administration in 2015 there was approximately 391,000 traffic accidents and approximately 3,477 deaths as a result of distracted driving. The risk level dramatically increases among youth drivers. The National Security Council reported that teen drivers are four times more likely than adult drivers to get into an accident when talking or texting on the phone while driving.
Smartphone usage among millennials in general has also exploded. According to a 2016 Nielsen study, of those who own a mobile phone between the ages of 18-24, 98 percent have a smartphone. Furthermore, 43 percent of those who do have a smartphone have an Apple iOS device.
The announcement follows a recent string of attempted regulation of distracted driving. In New York, the legislature is currently mulling over whether to implement a "textalyzer," a device that would allow officers at the scene of an accident to access the drivers' phones to see whether they were using their phones while driving.
The legislation has been criticized for allowing law enforcement to breach people's private cell phone information for only minor incidents. However, the legislation is currently under review and similar legislation is being proposed in Tennessee, New Jersey, and Chicago.
Whether Apple's voluntary feature will be useful or not remains to be seen, but with nine people dying a day from distracted driving, it is certainly trending in the right direction.