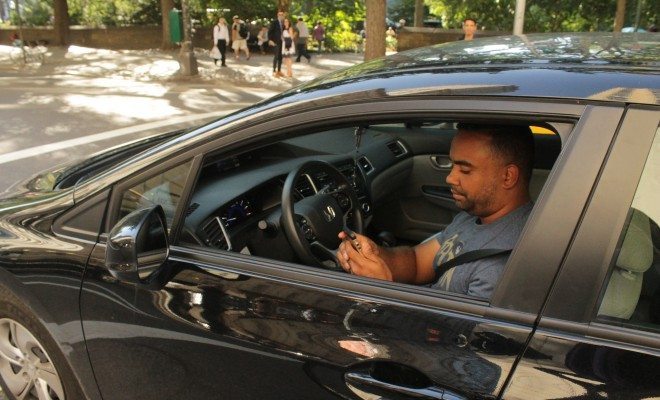 Image courtesy of [Liz Patek via Flickr]
Technology
In New York, "Textalyzer" Device Would Treat Distracted Driving More Like Drunk Driving
By
|
Since the advent of cellphones we've all heard the warnings: don't text and drive. The National Security Council estimated that 1.1 million vehicle crashes in 2013 involved drivers using their phones while driving. As a result, many states have made laws forbidding texting and driving. But New York is now looking into a device that would allow police officers to determine if a driver involved in a crash was texting and driving, or otherwise distracted by a phone. It's called the "textalyzer," and while its still in developmental phases, the state of New York is currently debating whether or not it should be implemented.
The device has the name "textalyzer" because it would be sort of a phone-testing equivalent of a breathalyzer. Police who arrive at a crash could require drivers to hand over their phones, and then tap the device against the phone. The device would be able to determine if the drivers were using the phones in a way that would lead to distracted driving, such as texting, sending an email, or (the new go-to) Snapchatting.
New York legislators have introduced a bipartisan bill that would grant police officers the ability to use a device like the "textalyzer." A press release by an advocacy group called the Distracted Operators Risk Casualties, which has been a big backer of the bill explains that the "textalyzer" is still a work in progress. According to the press release:
Cellebrite, the leader in mobile device forensics solutions, is developing this capability for officers to detect device usage in the field while maintaining the privacy of data stored on the device. 'Cellebrite has been leading the adoption of field mobile forensics solutions by law enforcement for years, culminating in the formal introduction of our UFED FIELD series product line a year ago,' said Jim Grady, CEO, Cellebrite, Inc. 'We look forward to supporting DORCs and law enforcement—both in New York and nationally—to curb distracted driving.'
There are plenty of concerns about the potential power of the "textalyzer," including privacy issues. SCOTUS has ruled in the past that police officers can't conduct warrantless cell phone searches–so the question becomes whether or not the "textalyzer" (which doesn't allow officers to look at any messages) is similar enough to be a problem. While both the law and the device itself are in somewhat of beginning stages, these legal and logistical concerns will be sure to take center stage moving forward.