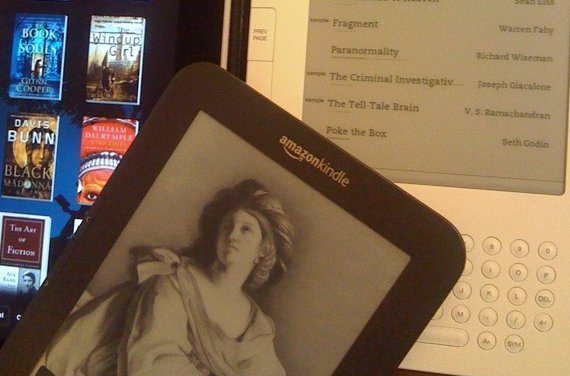 Image courtesy of [Joanna Penn via Flickr]
Technology
Hachette v. Amazon Deal Matters (But Not For the Reasons You Think)
By
|
My publishing career is unique because it has solely been through an intern's eyes. I attended the 2010 NYU Summer Publishing Institute–where, I might add, I met my fiancée, who is currently a book editor. Like most English majors, I wanted to be an editor; however, by the end of the six-week program, my tune changed 180 degrees, and I knew I wanted to be a literary agent and a book publishing attorney. Two years later, I enrolled in law school.
Excluding one summer internship at talent agency William Morris Endeavor, the bulk of my legal internships have been with book publishers like Rodale, Inc., Columbia University Press, and Hachette Book Group. You can say that I've found my way across the publishing landscape.
Regardless of where I've interned, however, I'm continually amazed at the people I've come across and the amount of effort it takes to publish books, which outsiders—consumers, critics, and dare I say, even authors—may not realize.
It's no secret that the majority of employees in book publishing are grossly underpaid (interns included, if they are paid at all). For the majority of departments, employees start earning larger salaries once they reach senior positions, which can take more than a decade at times. However, the lack of pay produces camaraderie among book publishing industry members, especially younger employees who trade in their lack of a paycheck for the opportunity to assist in creating great art and surrounding themselves with books all day.
From top to bottom, book publishers are made up of mostly English majors who are editors, or who had dreams of becoming editors, but gravitated toward marketing, publicity, production, finance, art, contracts, subsidiary rights, or if you're like me, the legal department. For this reason, publishing companies are unique in that each department contains members who are just as passionate, or even more passionate, than the next department about books.
This passion creates a work ethic within employees that the public may associate with big law firm attorneys, doctors, or investment bankers. Bringing work home and working on weekends can be the norm for some, especially when first beginning a book publishing career. Editorial assistants, in particular, are known to work extremely long hours, and their lives, which used to contain a full social calendar, are suddenly taken over by their authors' books. They live and breathe through their authors' successes or lack thereof. Life isn't much better for mid-level and senior employees who bear the brunt of the responsibility for producing great books, turning a profit, and essentially keeping the book publishing industry afloat.
No matter how little they're paid or how hard they work, what amazes me the most about the publishing industry is how genuine and kind everyone is.  Somehow they manage to wake up, wait in rush hour traffic—sometimes traversing across states lines—and walk into the office, smiling brightly or laughing, knowing deep down that they get to develop their own piece of culture.
This is why I'm glad Amazon and Hachette agreed to e-book and print price terms yesterday.  Forget the economic reasons. Forget who was right or who was wrong. The book publishing industry produces wonderful, kind people who help create art that can change you. Let's not forget about that, and more importantly, let's not forget about them.
Sometimes, I feel they were lost in the shuffle during the dispute. The media didn't pay attention to them. Why would they? They didn't create newsworthy events. Nevertheless, for six months they all sat in their cubicles and wondered aloud or to themselves what would happen if Amazon won. Would the book publishing industry meet the music industry's fate? Would they be out of a job? Would they have to find a new career?
Fortunately, they're not going anywhere.