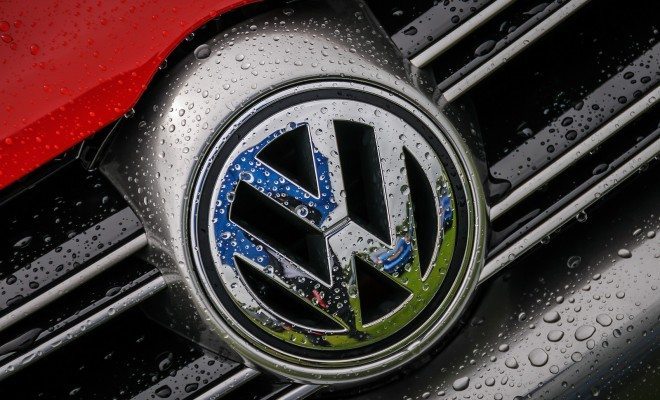 Image courtesy of [<p&p> via Flickr]
Technology
Five Things You Should Know About Volkswagen's Diesel Scandal
By
|
News of the Volkswagen diesel scandal broke last week when the Environmental Protection Agency issued a notice of violation to the company alleging that it installed software that allowed certain diesel cars to cheat U.S. emissions tests. On Tuesday, VW announced that as many as 11 million cars are affected worldwide, including nearly 500,000 in the United States. VW could face fines of over $18 billion for the deception, which caused cars to emit 10 to 40 times more than established standards. VW has already apologized and said that it will be doing everything possible to rebuild the trust of its customers and to cooperate with the Environmental Protection Agency's (EPA) investigation.
Here are the five things you should know about the scandal so far:
1. What Happened?
The issue here involves the use of what the EPA calls a "defeat device," which VW installed in its 2.0-liter diesel engine cars (see the list of affected cars below). The device allowed certain diesel cars to determine when they were undergoing an emissions test, at which point it would use full emissions control systems. However, when the car is not in testing mode, its emissions controls are turned off, causing it to emit Nitrogen oxides at up to 40 times higher than the law permits. This scandal also reveals some of the issues with the current system for emissions tests. Because the tests are done in a lab, under very specific conditions, VW was able to program its cars to determine when a test was being conducted.
Ironically, the violation was discovered by the International Council for Clean Transportation, which was trying to prove to European regulators that diesel cars could be clean. Researchers found that when the cars were tested indoors using the established protocol for emissions tests, the cars met the regulation standards. But when measured in normal conditions there was a notable increase in emissions. The council alerted the EPA and after a series of exchanges, the agency notified Volkswagen that its cars were in violation of Clean Air Act standards.
2. It Was Deliberate
After the International Council for Clean Transportation alerted the EPA and the California Air Resource Board (CARB) of the test discrepancies, the CARB ran its own tests and then approached the company. According to CARB's letter to Volkswagen, the company conducted its own testing then recommended a re-calibration to fix the emissions issues. VW then issued a voluntary recall to re-calibrate the cars, which it claimed had fixed the issue. It was only until CARB ran tests to confirm VW's claims that VW admitted to installing a "defeat device" to circumvent emissions requirements.
Put simply, VW ended up admitting to installing the defeat device, but only after a series of back-and-forth with the EPA and CARB. According to the EPA's letter to letter to VW:
It became clear that CARB and the EPA would not approve certificates of conformity for VW's 2016 model year diesel vehicles… Only then did VW admit it had designed and installed a defeat device in these vehicles in the form of a sophisticated algorithm that detected when a vehicle was undergoing emissions testing.
From the beginning, Volkswagen knew what it was doing when it programmed its cars to switch between a testing mode and a driving mode. This is compounded by the fact that the company didn't readily admit what it had done until it became a business imperative–it acknowledged that it installed a defeat device only when it realized its 2016 models were not going to get EPA approval.
3. More Evidence Could Come
As it currently stands, the EPA is investigating VW for violations. The agency currently has some pretty strong evidence and the company has already admitted to installing a defeat device. But based on the EPA's tone, it intends to take a very close look at the company's practices. The EPA's investigation is just starting now and the Wall Street Journal reported that the Department of Justice is looking to get involved as well. This comes after the Department of Justice revised its guidelines for prosecuting corporate crimes. The Justice Department could use the VW scandal as an opportunity to show off its newfound desire to prosecute responsible individuals in cases of corporate crime.
Volkswagen could face additional punishment if European regulators decide to take a closer look at the company as well. Although the United States has some of the strictest emission standards and notably strong enforcement, the company may still have programmed its cars to circumvent other countries' emissions standards.
4. This will Hurt Volkswagen
The defeat device was installed in approximately 11 million cars around the world including 482,000 cars in the United States. According to the EPA's notice, VW can be fined up to $32,500 per car, meaning that fines could exceed $18 billion if regulators seek maximum penalties–and that's just for violations in the United States.
It is important to note that while an $18 million penalty is possible, it is unlikely that VW will get the maximum. As Business Insider notes, maximum fines are rarely sought, and the largest fine from Clean Air Act violations was the $300 million penalty given to Hyundai and Kia last year. Hyundai and Kia's offense involved overstating the gas mileage of 1.2 million American cars, which was more than twice as many vehicles in the VW scandal. However, Hyundai and Kia maintain that their mislabeling was a result of procedural failures and was not intentional. While the Volkswagen scandal appears to have affected fewer cars, the available evidence indicates that VW's deception was both intentional and sophisticated. The company will likely face a sizable fine that may even break the previous record, but it remains unlikely that it will be anywhere near $18 billion. Since the initial announcement, Volkswagen stopped selling all affected 2015 and 2016 models.
On Monday, the first day of trading since the EPA's notice, Volkswagen's stock fell by nearly 20 percent–erasing close to $15 billion in market value in one day. So far, the company has not issued a recall, but that will certainly come. In a company announcement released on Tuesday, VW said that it plans to set aside close to $7.5 billion to deal with the 11 million affected cars.
5. What's Next?
As of right now, owners of affected cars don't need to do anything–although these cars do not comply with Clean Air Act regulations, they are still safe to drive. But a recall will be coming, which means that owners can expect VW to contact them about servicing their car to make it compliant with emissions standards.
What exactly will need to be done to get the cars in compliance remains unclear. It is possible that because the defeat device is software related, a programming change may suffice. While that would cost significantly less for Volkswagen and likely mean less time-consuming repairs for owners, doing so will likely result in reduced fuel economy and performance. If a software fix is not enough, the cars may require much more costly fix that could involve adding new emissions control systems to the vehicle. Again, these costs will not affect car owners, but if the latter is required it may take a lot longer for the recall to be implemented.
Here are the models affected by the recall:
Jetta (model years 2009 – 2015)
Beetle (model years 2009 – 2015)
Audi A3 (model years 2009 – 2015)
Golf (model years 2009 – 2015)
Passat (model years 2014 – 2015)