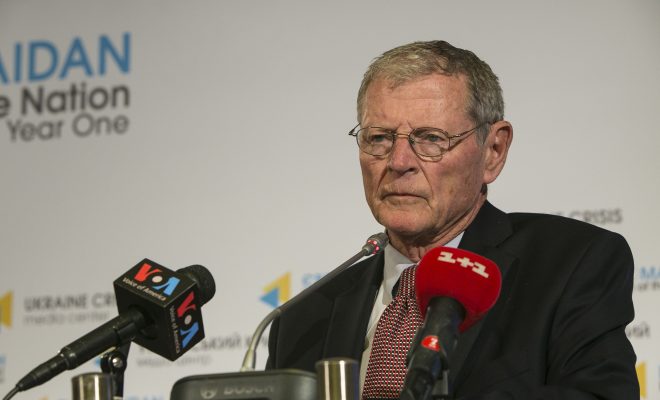 Image courtesy of U.S. Embassy Kyiv Ukraine; license: public domain
Energy and Environment
Senator James Inhofe Claims the EPA is Brainwashing Our Kids
By
|
Oklahoma Senator James Inhofe, who is on the Senate Environment and Public Works Committee, has become known for defying climate research and trying to prove that global warming is a hoax. In 2014 he brought a snowball to the Senate floor. Back then, 2014 was the hottest year on record and Inhofe asked the chair, "You know what this is?" before throwing the snowball. On Thursday, he appeared in an interview on CNN's "New Day" and accused the Environmental Protection Agency of brainwashing American kids with propaganda.
It is not clear whether he really doesn't believe in science, or if he doesn't understand it, or if he's just trying to make a political point. But he actually said, without providing any examples or proof: "we are going to take all this stuff that comes out of the EPA that is brainwashing our kids, that is propaganda, things that aren't true, allegations." Inhofe was referring to Donald Trump's new budget proposal, which shows huge cuts in the funding for the EPA.
A lot of people were outraged by Inhofe's comments.
The deniers have taken over. Future generations will despise these people for their recklessness and selfishness. https://t.co/TBR6kmuoBx

— Peter Daou (@peterdaou) March 15, 2017
Lunatics like this are one of the main reasons your clean water is at risk https://t.co/esoPQErEpB

— Jordan (@JordanChariton) March 16, 2017
When interviewer Poppy Harlow asked Inhofe to explain his remarks about brainwashing, he avoided the question and instead started praising Scott Pruitt, the new head of the EPA, who sued the agency when he was the attorney general of Oklahoma.
Inhofe has made this allegation before; in July he made similar comments to radio host Eric Metaxas. He told Metaxas he "was the first one back in 2002 to tell the truth about the global warming stuff and all of that." Then he told an anecdote in which his granddaughter asked him why he doesn't understand global warming. Inhofe told the radio host, "I did some checking and Eric, the stuff that they teach our kids nowadays, you have to un-brainwash them when they get out."
In 2010, Inhofe took his grandchildren to build an igloo on the National Mall in Washington, D.C. and named it "Al Gore's New Home." He has called global warming the "the greatest hoax" ever imposed on Americans. Now, given the GOP's control of the government, he has a chance to do some real damage. "Now he and his cronies have far more reach and are far more dangerous than they've ever been… That's good news for the polluters but horrible news for public health," said Gene Karpinski, president of the League of Conservation Voters.