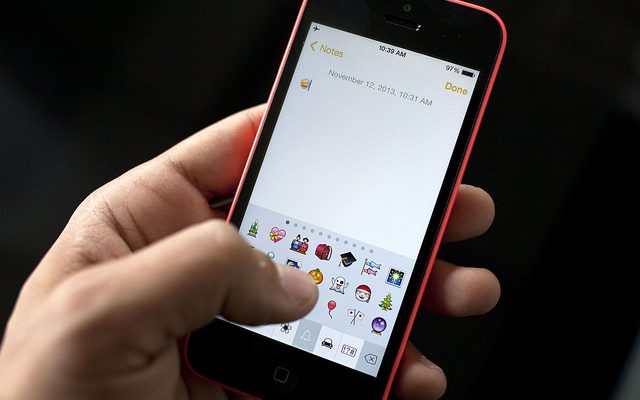 emoji Courtesy of [downloadsource.fr via Flickr]
Technology
Did Apple Just Enter the Gun Control Debate With its New Emoji?
By
|
Apple may have just picked a side in the country's gun debate with the help of a new emoji roll out that includes a playful alternative for one "loaded" character. The tech company announced Monday that it will be replacing its popular pistol emoji with a squirt gun in its upcoming iOS 10 update.
The new green water gun, which comes equipped with the real toy's signature orange cap and plastic trigger, will be introduced along with more than 100 new and revamped emojis that aim to make the company more diverse and inclusionary. Other emojis include more family options, a rainbow flag, more icons depicting people of color, as well as new female athletes and professionals in stereotypically male roles.
Apple's new emojis show women working and men getting pampered https://t.co/cy7jb7l2S4 pic.twitter.com/gxI8mIBnwM

— Fortune (@FortuneMagazine) August 2, 2016
The decision comes after the advocacy group New Yorkers Against Gun Violence started a campaign last year called #DisarmTheiPhone, in which it asks Apple's CEO, Tim Cook, to remove the gun emoji from all Apple products.
In an open letter to Apple Inc., the group writes:
We realized that many Americans unknowingly carry a gun with them every day. The one that was given to them without a background check: the gun emoji.

We ask that you stand with the American people and remove the gun emoji from all your products as a symbolic gesture to limit gun accessibility. We understand taking the emoji out will not end gun violence, but this act will show Congress that gun-owning and non-owning Americans have come together to demand required background checks for ALL gun sales.
According to CNN, Microsoft has already replaced their pistol emoji with a toy gun, but Google, Samsung, Facebook, and Twitter all still have gun emojis.
In June, Unicode–the governing body in charge of selecting and overseeing emojis–nixed plans to incorporate a rifle emoji with a set of Olympic-themed characters, after Apple spoke out against the proposal.
While Apple did not directly address the squirt gun emoji or the pistol replacement in its press release Monday, it did write that it is "working closely with the Unicode Consortium to ensure that popular emoji characters reflect the diversity of people everywhere."