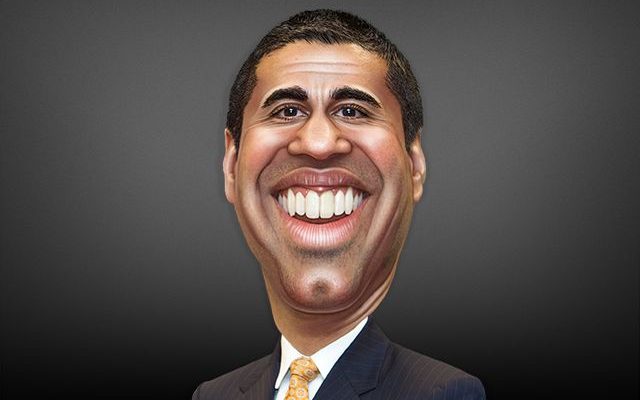 "Ajit Pai" Courtesy of DonkeyHotey; License CC 2.0
Technology
Amazon, Etsy, and Kickstarter Headline Net Neutrality Protest
By
|
Major internet companies are joining a day of action to protest the Federal Communication Commission and its planned decision to eliminate Obama-era net neutrality regulations.
Amazon, Etsy, and Kickstarter are just some of the 52 companies and organizations that are participating in this internet-wide event on July 12. It's being hosted by advocacy groups Fight for the Future, Freepress Action Fund, and Demand Progress. Other notable participants include Vimeo, Reddit, and Mozilla, creator of the Firefox Web Browser.
Not much information is available on what will exactly happen on the day of the protest on the event's site, only that more details will be sent out to participants who join the mailing list as the day approaches. However, the website does promise to "make it easy for your followers / visitors to take action" in the protest.
Net neutrality is the idea that internet providers should treat all online traffic equally. Current FCC policy (Title II of the Telecommunications Act) regulates broadband providers to ensure that indiscriminate services are being provided to the public at large. In other words, the FCC is currently making sure that your Netflix streams are not being slowed down because your provider has a deal with Hulu.
President Donald Trump's newly appointed FCC chair, Ajit Pai, promised last year to take a "weed whacker" to the internet regulations set up during Obama Administration. Pai, along with the rest of the FCC's Republican majority, said in the agency's open meeting that the current rules stifle creativity and prevent internet providers from trying innovative ways to make money in a digital world.
Member companies of the Internet and Television Association have stated that they support the idea of net neutrality, but would  prefer the federal government not be the body that enforces it. But companies that are actually based online have a much different opinion on the matter.
"Net neutrality made it possible for Vimeo, along with countless other startups, to innovate and thrive," said Michael Cheah, general counsel of Vimeo, in a statement. "The FCC's proposed rollback of the 2015 open internet rules threatens to impede that innovation and allow a handful of incumbent ISPs to determine winners and losers."
This is not the first time internet companies have chosen to stand up to threats against net neutrality. Google, Netflix, and Twitter protested in similar fashion back in 2014 in support of reclassifying broadband services under Title II regulations. Since then, the rules have faced many challenges in court but have yet to be overturned.
As for Pai, this will be the second large-scale act of protest his commission will face this year. Comedian, and host of "Last Week Tonight," John Oliver encouraged his viewers in May to comment on the FCC proposal that would dismantle Title II regulations. The resulting traffic crashed the commission's site.