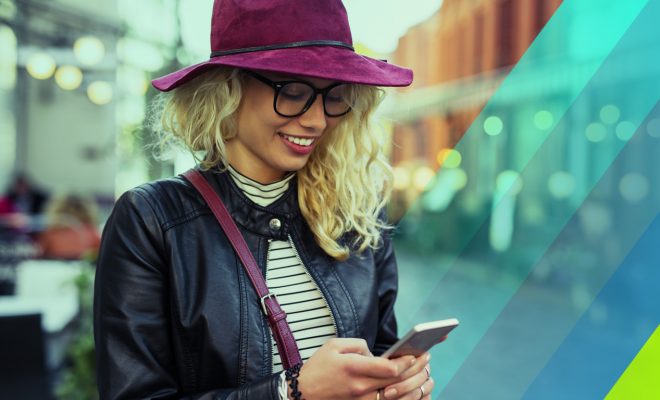 Image courtesy of TPO Mobile
Technology
New Career, New Phone, New Cause: 5 Reasons to Check out TPO Mobile
By
|
Sponsored Content
Any change in life–whether it be a graduation, a new job, or a move, always comes with a hefty to do list. TPO Mobile wants to help make that to do list a little shorter–by helping you find the perfect cell phone plan. And not only will TPO Mobile help you save some money with a reasonably priced and reliable phone plan, it will also help you check off one other thing on that to do list: making sure you set aside some money for charity.
TPO–which stands for "The People's Operator"–gives 10 percent of your bill to a cause you care about, at no additional cost to you. It's perfect for someone transitioning from their family's plan to their own, or anyone looking to switch carriers and make a positive impact on the world at the same time. So, if you're looking to save some dough and make a difference, check out five reasons you should consider a TPO Mobile prepaid plan:
Lots of Choices–For Both Plans and Causes
When you step away from your old phone plan, you have a world of options in front of you. You don't want to restrict yourself, you want choices. TPO offers those choices for both its plans and the causes that your 10 percent can go to benefit.
TPO offers nine distinct prepaid cell phone plans, with a range of data, talk, and text limits. TPO also offers tablet plans, to ensure that you're connected from all your devices.
TPO customers have directed funds to thousands of causes, including the ASPCA, Pencils of Promise, Grassroots Soccer, Girls on the Run, UNHCR, Planet Water, and New York Restoration Project. When you sign up with a TPO plan, you get access to the cause partner database, and get to choose the one that you connect with. Then, 10 percent of your bill is automatically donated to that cause partner.
Not sure what cause you want to support? TPO sometimes offers the ability to split your money between multiple causes. TPO has just launched the Power2Students pack, allowing you to split your money between three amazing education charities. Join today and split your 10 percent between Pencils of Promise, Urban Dove, and Scholarship America.
Having a hard time picking a cause? Take our quiz to see which organization is the best fit for you!
It Makes Giving a Good Habit From the Start
It's easy to think to yourself: "I'll give to charity when I have a larger paycheck, or when I'm more settled down." But if you make a habit of giving when you're young, it's more likely that you'll donate throughout your life. If that's important to you, it may be time to start now. And what easier way to do so than making giving part of a bill you have to pay anyway?
There's also a ripple effect when it comes to charitable giving, particularly for millennials. Your 10 percent is going to charity courtesy of TPO, but it probably won't stop there. Millennials are significantly more likely to be influenced by their peers than other age groups when it comes to giving. And that's a good thing, because with TPO Mobile…
….Friend and Family Referral Rewards Help You Rack up the Savings
If you refer a friend or family member, you can choose between a $10 credit to your account, or $5 in cash. It's as easy as that. And of course, the more people you get to use TPO's services, the more money ends up going to your favorite charities. It's a total win-win.
Great Value Rates
TPO offers service on the fastest nationwide 4G LTE network, and covers about 97 percent of the American population. You get to use whatever phone you choose, as long as you can insert a TPO SIM card. And you can keep the number you've always had–you won't have to go through the pain of updating everyone with your new number. In today's financial climate, when so many of us are saddled with massive amounts of student loan debt and less relative income when compared to our parents' generation, it makes a lot of sense (and cents) to shop around for the best deal.
Currently TPO is offering up to 35 percent off per month for the first three months on selected prepaid plans, and a free SIM card.
Awesome Customer Service
Listen–we've all been stuck on the phone with a service provider, pressing one for more options, and attempting to finally speak to a human. You won't have to worry about that with TPO. TPO has a team standing by ready to help seven days a week, including the weekends, so you won't miss a minute of your life. Here's what a couple of millennial TPO customers had to say about their experiences. Taylor Cash said:
I'm not very tech-savvy for a millennial. I wanted more data but I wanted to upgrade my plan too, and was confused about how it all worked. Everyone I have talked to was very kind and helpful and took the time to explain how it worked to me. I think it's more personal—I didn't ever feel like they were 'reading from a script' without really knowing the answer. I feel like they knew exactly what I was asking and how to solve it and explain it to me.
And Evan Taylor pointed out the importance of a personal touch:
The mere fact that they aren't one of the telecom giants that are impossibly infuriating to deal with is huge. Also, they seem to care about social causes and community. It's important that someone out there is providing affordable service and not taking advantage of people with obscure contracts.
As millennials, we place a high priority on charitable giving. We're more likely to want to work for companies that give back to the community; as a group we give to charity at high rates; and we love talking about the charities we care about, and getting other people to give too. TPO understands that. Jimmy Wales–also the founder of Wikipedia–is the executive chairman of TPO Mobile. He was inspired to join the team because of its emphasis on those very values that millennials hold near and dear to their hearts. He explained:
Millennials are increasingly supporting causes based on personal connection–that's what the studies are showing. TPO Mobile provides millennials a way to keep in touch with their friends and family whilst making a positive change. This empowers them to drive their own change, and encourages more and more companies to let customers support causes they care about with everyday technology. People want to give back, so why not give them a way to do it?
And that's exactly what makes TPO such a good fit for millennials. The company was founded with those ideals in mind–that there's a way to use business for good. Check out TPO to learn more.
---
Join TPO Mobile and connect with what you love.
Feel good, do good
---