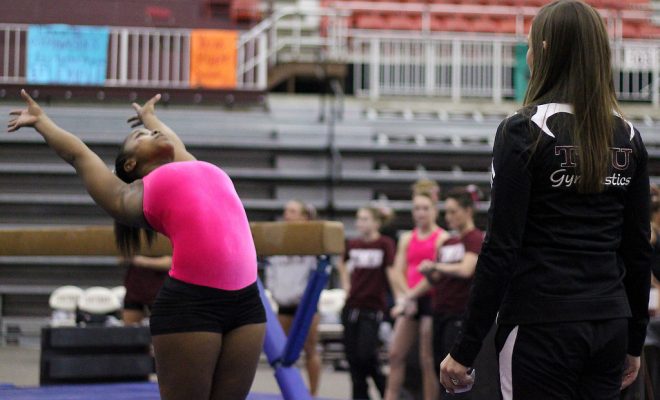 Image courtesy of [Erin Costa via Flickr]
Sports
Sexual Abuse Coverup Claims Rock the Gymnastics World Before Rio
By
|
A recently-released investigation by IndyStar claims that many allegations of sexual abuse of children were mishandled by USA Gymnastics–the governing body for the sport in the United States. As the ramp up to the Rio Games continues, this sheds a negative light on one of the Olympics' most beloved sports, given that USA Gymnastics is responsible for the development of the official U.S. team.
The controversy appears to stem from the concern that officials at USA Gymnastics didn't investigate claims  of abuse unless they came directly from a parent or from a child who was being abused, allegedly in an attempt to protect the reputations of the coaches the complaints were levied against. According to the investigation, any other claims were dismissed as rumors or "hearsay." In addition to problematic policies, USA Gymnastics may have acted illegally when it didn't report certain complaints to the authorities.
According to IndyStar:
USA Gymnastics would not disclose the total number of sexual misconduct allegations it receives each year. But records show the organization compiled complaint dossiers on more than 50 coaches and filed them in a drawer in its executive office in Indianapolis. The contents of those files remain secret, hidden under seal in the case filed by Ganser's daughter. IndyStar, as part of the USA TODAY Network, filed a motion seeking to make the files public. The judge in that case has not yet ruled.
USA Gymnastics obviously disagrees with the classifications of its conduct, and put out the following statement after IndyStar's claims surfaced:
Addressing issues of sexual misconduct has been important to USA Gymnastics for many years, and the organization is committed to promoting a safe environment for its athletes. We find it appalling that anyone would exploit a young athlete or child in this manner, and recognize the effect this behavior can have on a person's life. USA Gymnastics has been proactive in helping to educate the gymnastics community over the years, and will continue to take every punitive action available within our jurisdiction, and cooperate fully with law enforcement.
The Rio Olympics are about to officially kick off (although some sports are already underway) and they've certainly been full of controversy. From the threat of Zika, to upsetting unsanitary conditions, to concerns about crime and safety, the powerhouse U.S. gymnastics team has been one of the bright spots for Americans watching the games. But with concerns about the coverup of child sexual abuse, questioning USA Gymnastic's record on the issue may dominate the news cycle this week.