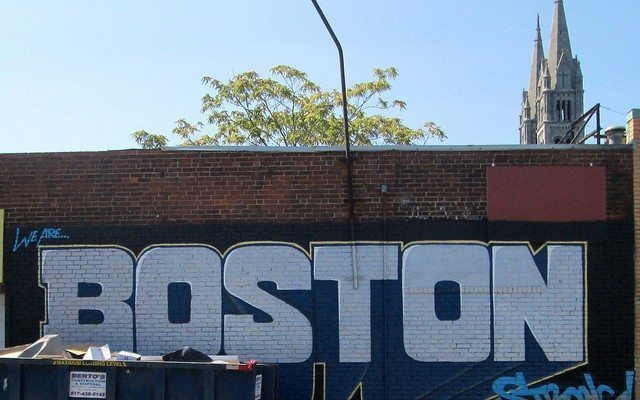 Sports
The Top 5 IP Battles in Sports
By
|
Few things in the world are as marketable as sports. There's just something about the mix of competitive energy and artistic renderings (especially when appearing on casual clothing) that's fun. Even when tragedies befall us, opportunities to overcome often appear in the simple form of a sports-related symbol or catchphrase, capable of uniting folks behind a singular cause. But since most Americans have great minds (fact), and great minds think alike, some of our best symbols, catchphrases, or ideas in general have already been taken. The problem that arises in these scenarios is a contest of intellectual property (IP), often settled in federal court.
Are there specific examples of said IP struggles in sports? Oh well I'm glad you asked. Here at Law Street we've decided to list the top five examples for your entertainment and intellectual stimulation.
5. "B Strong" 
The most recent example of a prominent sports-related IP battle can be found in El Paso, Texas, home of the Braden Aboud Foundation, which was created in 2007 to honor the memory of its namesake. Aboud was a 14-year-old boy who passed away from injuries sustained during a ski accident. Also in '07, the Foundation received trademark protection for their slogan, "B Strong," which they've printed on merchandise to help fundraising efforts. Fast forward to 2013. That same slogan was adopted by the Boston Red Sox, who printed 'B Strong' on their merchandise to raise money for charity following the Boston Marathon bombings last April. The Red Sox have offered joint licensing with the Texas charity, but the parties have yet to agree upon licensing compensation. The conflict could soon be headed to court.
4. San Diego Chicken vs. Barney
In the early '90s, two giant bipeds stole everyone's heart: Barney and the San Diego Chicken (three if you count the Phillie Phanatic). In 1994, the San Diego Chicken began a campaign to push out Barney, as he repeatedly assaulted a Barney impersonator at San Diego Padres home games. The routine was in jest, of course, but Lyons Partnership LLP — the company that owned the real Barney's copyright — was not laughing. Lyons sued the San Diego Chicken in federal court alleging copyright infringement. The fight for Barney however, didn't last long. U.S. District Judge John McBryde dismissed the lawsuit, holding that the Barney lookalike in San Diego was intended to be used as a parody, and not as a source of confusion with the actual Barney.
3. Major League Baseball vs. Cape Cod Baseball League
Anybody who has played little league baseball knows that recreational team names are often borrowed from MLB teams. In 2008, Major League Baseball decided it would start to enforce the naming rights of its teams by threatening legal action against the Cape Cod Baseball League, whose teams share the names of MLB baseball squads. The Cape League however, is not your average amateur baseball league. It was founded in 1885, and many of the teams — such as the Harwich Mariners — have names that predate those of their MLB associates. Consequently, this struggle ultimately ended in a tie, as some Cape League teams agreed to change their names, while others were permitted to keep theirs.
2. 12th Man (Texas A&M) vs. 12th Man (Seattle)
Fans can often sway a game for the home team. Some teams recognize this home-field advantage and reinforce the raucous behavior of their crowds in less destructive ways than holding a ten-cent beer night. In football, this reinforcement comes in the form of merchandise labeled "twelfth man," which refers to the home-crowd advantage which is often equivalent to having an extra man on the field. This clever slogan however, is trademarked by the Texas A&M Aggies. The NFL franchise Seattle Seahawks found this fact out the hard way, when they were sued by A&M for using the slogan on merchandise without permission. Despite retiring the jersey number 12 to honor Seattle fans, the Seahawks eventually acknowledged A&M's trademark, and the two teams agreed to a licensing relationship.
1. WWF vs. WWF
You ready for this one, brother? The World Wrestling Federation and the World Wide Fund for Nature coexisted in harmony for years with both enterprises agreeing to use the descriptive acronym "WWF."  Presumably, there was no need for a lengthy legal battle because there was no chance the two organizations would be confused with each other. Then came the internet and the alleged breach of the two organizations' 1994 agreement by the World Wrestling Federation when it began using the domain WWF.com.  The environmentalists ultimately won when a U.K. Court of Appeals ruled that the wrestling giant had breached the '94 agreement. Nature – 1, Nature Boy – 0.
—
Andrew Blancato (@BigDogBlancato) holds a J.D. from New York Law School, and is a graduate of the University of Massachusetts, Amherst. When he's not writing, he is either clerking at a trial court in Connecticut, or obsessing over Boston sports.
Featured image courtesy of [Rob Larsen via Flickr]