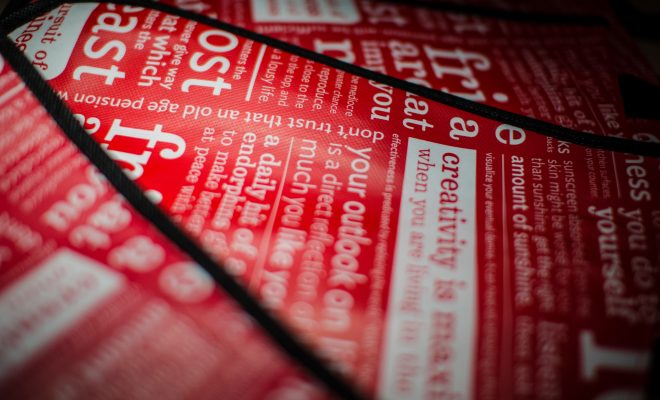 Image courtesy of m01229; License: (CC BY 2.0)
Fashion
Lululemon and Under Armour Battle Over Bra Design
By
|
Athleisure–active wear as wear-anywhere clothing–has hit peak trendiness. And producers of athletic clothes have been making big bucks as a result. But two of the leading athletic wear companies aren't feeling particularly zen at the moment. Lululemon is suing Under Armour for patent and trademark infringements over the design of some of the brand's sports bras.
Lululemon's claim centers around the design of its Energy Bra (which retails for $52). The activewear producer claims that four of Under Armour's sports bras violate its intellectual property. The Under Armour bras in question include the Armour Eclipse Low, the Armour  Shape Low, the UA On the Move Bra, and the UA Printed Strappy Bra. In the filing, Lululemon presents patents that include four overlapping straps in the back of the bras–it's that particular design feature that's at issue. According to the lawsuit, the design includes:
Four interwoven segments of fabric, two of which extend from each shoulder; the fabric segments extending from the left shoulder are attached to the right side of the fabric constituting the back of the bra; the fabric segments extending from the right shoulder are attached to the left side of the fabric constituting the back of the bra; the fabric constituting the back of the bra is bisected by a horizontal line
The fact that the company has patents on such designs at all is actually relatively rare–fashion usually moves too quickly and is too cyclical for manufacturers to bother with the patent process.
Still, if Canadian-based Lululemon truly believes Under Armour is cutting into its profits, the lawsuit makes sense. The sports bra industry accounted for $1 billion in sales last year. Lululemon wants an injunction to stop Under Armour from selling the bras, as well as damages. And Lululemon has had some success with such lawsuits before. In 2012, the company sued clothing producer Calvin Klein over a yoga pants design. While that case was eventually settled out of court, the fact that Lululemon was actually able to make progress with its lawsuit was somewhat of a gamechanger, given that clothing IP cases don't normally make it that far. We'll have to see if Lululemon actually gets Under Armour to pay up for the alleged strap-stealing as well.