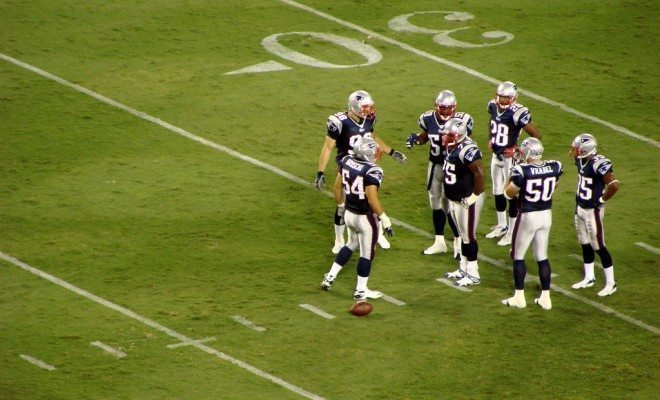 "Patriots Defense" courtesy of [Gregor Smith via Flickr]
Sports
The Controversy That Will Never Die: Patriots Fans Sue NFL Over "Deflategate"
By
|
Because "deflategate" can apparently never die for Boston sports fans, Patriots fans are now suing the NFL to block one of the penalties that the league handed down. Seven irate fans want the team's draft picks reinstated, and have filed a lawsuit in federal court to that effect.
The penalties for deflategate were highly contested from the beginning–the original decision by the league to suspend quarterback Tom Brady for four games was been put on hold by a judge and appeals are still ongoing. One of the other penalties levied by the NFL, however, was the loss of two draft picks for the Massachusetts-based team–this year's first round draft pick, as well as 2017's fourth round draft pick.
The suit, Orsatti v. NFL, is filed against the NFL, Roger Goddell, the NFL commissioner who has already received plenty of flak over his handling of deflategate, as well as the owner of the Patriots, Robert Kraft. While it could seem weird to sue Kraft, the man whose team is actually negatively affected by the penalty, the lawsuit claims that he didn't do enough to fight against the revocation of the Patriots' draft picks. It states:
Defendant Robert Kraft had remedies to attempt to get plaintiffs' draft pick back, but he chose his fellow billionaire owners above the plaintiffs and fellow fans.
The lawsuit claims that Goddell, Kraft, and the NFL as a whole have broken a number of laws ranging from consumer protection issues to racketeering. As a result, the fans who filed the suit allege that they have experienced: "embarrassment, ridicule and depression due to the rest of the country who is jealous of the Patriots 'piling on' and criticizing the Patriots and their fans for being 'cheaters.'"
However, legal experts are saying that this lawsuit probably won't go too far. ESPN talked to Michael McCann, a sports law professor at the University of New Hampshire Law School, who pointed out that the fans bringing the suit don't really have standing. He stated: "paying for a ticket to watch the Patriots play isn't interfered with by the team losing a draft pick or two." While it seems likely that we'll continue to hear about deflategate as the legal side of the controversy continues to make its way through court, this particular case appears to be dead on arrival.