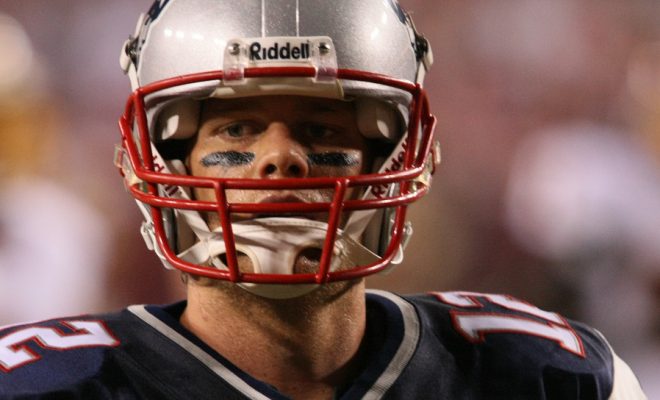 "Image" Courtesy of Keith Allison: License (CC BY-SA 2.0)
Sports
Anti-Trump Super Bowl Donation Campaign Raises Money for Various Organizations
By
|
There was a lot going on last night during the Super Bowl. But caught up in the hysteria–somewhere between people pointing out the game's eery similarities to this past year's election, the Tom Brady roasting, the Tom Brady adoration, the Lady Gaga jumping gifs, and the commercials that every American loves to hate or hates to love–a ton of people donated a ton of money to various organizations and charities around the country.
Using the hashtag #AGoodGame, people took to Twitter to pledge to donate a certain amount of money every time their team scored a touchdown or a field goal.
Watching #SuperBowl w/ democracy, civil rights, & environment in mind. #AGoodGame for @ACLU @PPact @splcenter @AWIOnline @NatlParkService pic.twitter.com/SZBYScSnah

— Amber Baillon (@Vambaillon) February 5, 2017
$100 to ACLU, $50 to Planned Parenthood and $50 to Standing Rock Sioux. #AGoodGame #SuperBowl @joshgondelman Thanks for the inspiration!

— Kristen Callisto (@HaleiwaHoney) February 6, 2017
5 Brady sacks = $100 to @splcenter, & $100 to @AlbanySAFEProj to help support survivors of sexual assault and DV #AGoodGame @joshgondelman https://t.co/9Ud0OdEtAn

— Bear Brian (@Brian___H) February 6, 2017
I have paid off my #AGoodGame promise to @SavetheChildren. My math looks like this: pic.twitter.com/komMvvdQ3h

— Owen King (@OwenKingwriter) February 6, 2017
#AGoodGame Donating to Boston area women's shelter @RosiesPlace pic.twitter.com/09WfXr8T94

— Estelle Nickleby (@estenickleby) February 6, 2017
#AGoodGame was started by comedian Josh Gondelman, a writer for "Last Week Tonight" and a lifelong Patriots fan, who, on Thursday, tweeted his intention to support his team while rejecting the politics of some of the organization's members.
I've been a Patriots fan for my whole life but I am way off on the political spectrum from much of the organization. https://t.co/3p3oVKzwkW

— Josh Gondelman (@joshgondelman) February 3, 2017
I'd like to be able to cheer for the team I grew up loving without cheerleading the Trump administration. Is this anyone else?

— Josh Gondelman (@joshgondelman) February 3, 2017
My friend @emma_sandoe and I thought that maybe people who feel ambivalent could donate to a good cause for every Pats FG or TD.

— Josh Gondelman (@joshgondelman) February 3, 2017
It seems like a practical way to do a little good without staging a (small and ineffective) boycott of the Super Bowl.

— Josh Gondelman (@joshgondelman) February 3, 2017
If you have political Patriots fan ambivalence, maybe pledge a little money to a good cause when they score using the hashtag: #AGoodGame

— Josh Gondelman (@joshgondelman) February 3, 2017
Because of Tom Brady's garbage politics, I'm donating $100 for every Patriots TD and $50 for every FG to the @NAACP_LDF. #AGoodGame

— Josh Gondelman (@joshgondelman) February 3, 2017
The politics of some of the members of the Patriots organization has been a running sub-plot in the NFL this season. In September, a "Make America Great Again" hat was seen in the Patriots' superstar quarterback Tom Brady's locker. Brady has also made comments that have quietly alluded to his support of  President Donald Trump.
In November, Patriots coach Bill Belichick was criticized for sending a letter to Trump congratulating him on a "tremendous campaign" and touting him "the ultimate competitor and fighter."  Additionally, Patriots owner Robert Kraft has described Trump as a "a very close friend" and was seen at Trump Tower a week after the election ended.
In an interview with Esquire, Gondelman said he would have felt "weird" not acknowledging the relationship these members of the Patriots have with Trump. "I have this large social media reach, and fortunately a little money I could donate to a good cause," Gondelman said, "So it just felt like to do that would be putting my money where my mouth is."
While donation totals from #AGoodGame have not been collected yet, last night's surge of generosity follows a trend that has sprung up in response to some of Trump's policies. At the end of the weekend Trump's polarizing travel ban took effect, CNN's Brian Stelter reported that the ACLU had received 356,306 donations totaling over $24.1 million–five times more than the organization usually receives in a whole year. Planned Parenthood also has seen a rise in donations. According to The Atlantic, Planned Parenthood received 80,000 donations in the three days after the election.