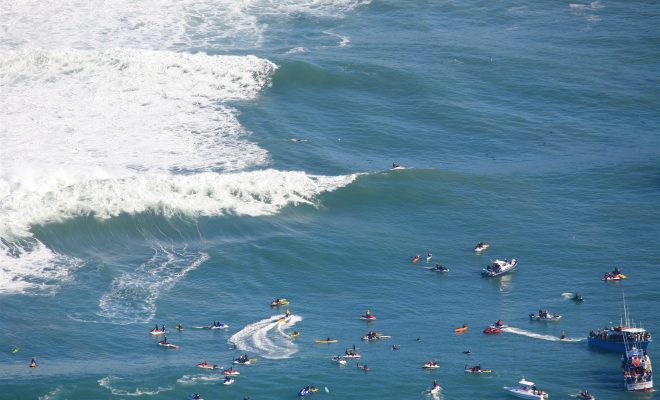 Image courtesy of Steve Jurvetson; License: (CC BY 2.0)
Sports
Surf Equity: Titans of Mavericks and Beyond
By
|
For the past eighteen years, the Titans of Mavericks surf competition in California has pitted talented surfers from across the world against massive swells that are considered some of the most challenging to surf on the planet. For every one of those eighteen years, the competitors have all been male. Female surfers have been taking on Mavericks for almost as long as the competition has been running, and in recent years it has been increasingly clear that there are qualified female surfers who are ready to join the Titans competition.
In 2015, Sabrina Brennan, a member of the local harbor commission, noticed that the Titans of Mavericks' five year permit was up for review and that the California Coastal Commission was also reviewing it. Brennan went to work presenting the case that the competition was excluding women; as a result, the commission agreed to adopt a women's inclusion provision as a requirement for future permits, as well as give Titans a year to create a plan to include more women in the competition.
Despite Titans' co-founder Jeff Clark arguing that women were already included (as judges and water rescue staff) and that women's exclusion in the main event was "a performance thing…women just aren't there yet," female surfers organized and founded a lobbying group called the Committee for Equity in Women's Surfing. They partnered with Brennan to draft a demand for a women's heat at Titans, and the commission unanimously voted to enact it in November 2016.
The women's heat was structured very differently than the men's, with only $30,000 in prize money compared to $120,000 for men, and only six surfers competing rather than 24. Nevertheless, the heat was ready to go and female surfers stood on the cusp of competing at a level they had been shut out of for almost two decades–that is, until the organizers of Titans of Mavericks declared bankruptcy in February and the competition was shelved. Female surfers can still surf the waves at Mavericks this year, but they won't benefit from the publicity, cash prizes, and bragging rights that would have come with a formal competition.
The Titans victory may have been short-lived, but it has set an important precedent for women in surfing and other extreme sports across the world. Women's sports are underfunded across the board–just think about how the U.S. women's soccer team has had to sue U.S. soccer for wages equivalent to their male counterparts, despite the fact that they generated nearly $20 million more in revenue than the male team. More than 750 million viewers tuned in to the Women's World Cup in 2015, yet these athletes still have to go to court to be paid what they're worth.
Consider how difficult it is to compete as a woman in nontraditional or extreme sports, where even male competitors struggle to establish themselves as serious athletes. Women's prize are consistently a fraction of men's, and women rarely receive enough sponsorship to allow them to compete as a full-time career. With glaring inequality in organized women's sports at multiple levels, from the high school level all the way to professional teams, lobbying individual cities and tournaments may be the future of gender parity in sport.
The Committee for Equity in Women's Surfing should be used as a template for female athletes both in extreme and traditional sports: if the organizers tell you "no," go over their heads.