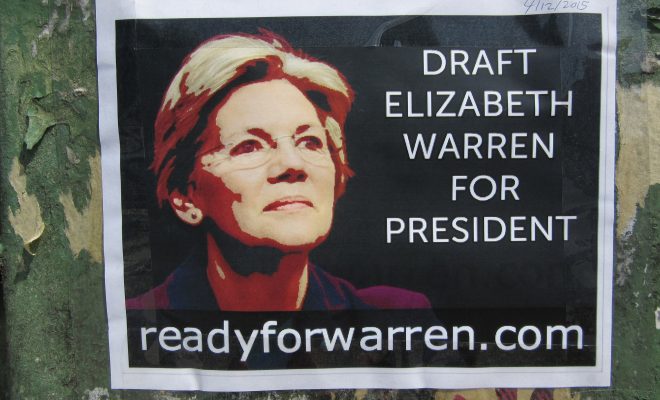 Image courtesy of Elvert Barnes; license: (CC BY-SA 2.0)
Society and Culture
She Persisted: Elizabeth Warren Becomes an Action Figure
By
|
A product design company has launched a new action figure in the shape of Senator Elizabeth Warren. The company FCTRY–which also makes pacifiers with a mustache and a glitter gel called unicorn snot–has made many political action figures already. It started when Barack Obama was running for president and the company made an Obama figure that became so popular that FCTRY raised over $10,000 for his campaign by donating a portion of the sales. This time, some of the proceeds will go to Emily's List, a non-profit devoted to helping elect female candidates.
The latest addition became a reality thanks to a Kickstarter campaign, and Elizabeth Warren herself said, "I really like that–that's cool," when asked about the new figure by The Worcester Telegram & Gazette. "The moment Mitch McConnell spoke the words, 'Nevertheless, she persisted,' we knew Warren had to be our next figure," said Erica Chon, FCTRY's content strategist.
Our @SenWarren Action Figure Kickstarter will launch on June 6th! It was quite a journey from sketch to prototype, but she's ready! pic.twitter.com/Djd1dwpW8o

— FCTRY (@fctry) June 1, 2017
Chon was referring to when Republicans voted to silence Warren on the Senate floor after she had read a letter by Coretta Scott King about Senator Jeff Sessions' record on civil rights. Senate Majority Leader Mitch McConnell invoked something called Rule 19, which basically states that Senators should not speak ill of each other. That is also when McConnell said the now-famous words, "She was warned. She was given an explanation. Nevertheless, she persisted."
Nevertheless, she persisted. Company makes Elizabeth Warren action figure, and she loves it. pic.twitter.com/YKYTkkqjfS

— Mike Sington (@MikeSington) June 6, 2017
After that day in February, the words became a slogan for Warren fans and feminists. And now everyone can buy their own Warren figure! The miniature Warren will have a "righteous fist" to fight for the middle class and an open hand "to smack down Trump's policies." She will also wear a "power blazer, to topple the patriarchy," among other things.
The phrase came up again on Wednesday when the Senate Intelligence Committee asked intelligence officials whether President Trump tried to obstruct the investigation into potential collusion between his campaign and Russia during the presidential election. Senator Kamala Harris asked Deputy Attorney General Rod Rosenstein if he would give complete independence to Robert Mueller, the independent counsel overseeing the investigation.
When Rosenstein avoided answering, Harris asked for a simple "yes" or "no" answer. But the chairman of the committee, Senator Richard Burr, interrupted Harris and told her she wasn't being courteous enough. Most people think this was pretty hypocritical, as male senators questioned people just as forcefully without being reprimanded. Now a lot of people, including Senator Warren, started using the slogan again, demanding that male politicians do better.
Silencing @SenKamalaHarris for not being "courteous" enough is just unbelievable. Keep fighting, Kamala! #NeverthelessShePersistedhttps://t.co/58y15qWVzU

— Elizabeth Warren (@SenWarren) June 7, 2017