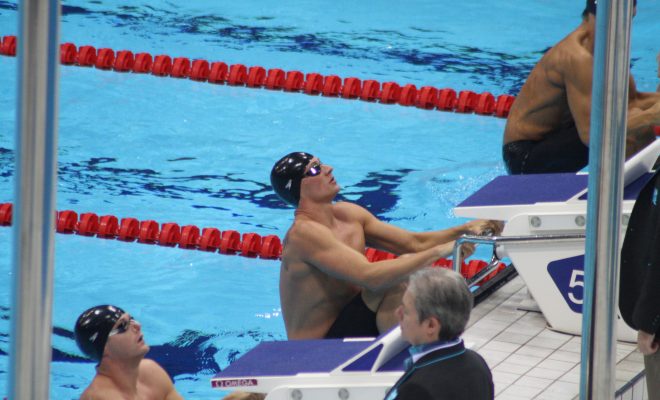 "Ryan Lochte" courtesy of [nrcphotos via Flickr]
Sports
Speedo Drops Sponsorship of Ryan Lochte After Robbery Scandal
By
|
Swimwear brand Speedo decided to drop its sponsorship of U.S. swimmer Ryan Lochte after the scandal surrounding his robbery claim in Rio came to light. The company said that it can't condone behavior that contradicts its values.
Last week, Lochte and three teammates claimed they were robbed at gunpoint at a gas station after a night out in Rio. But when police followed up with the swimmers, their statements differed from each other and Lochte's nonchalant reaction to being threatened with a gun to his head, to which he responded by saying, "whatever," also called his account into question.
By Thursday, it became clear that their reports of a robbery were embellished and possibly fictitious. Rio police said Lochte and friends had vandalized the gas station by tearing off the bathroom door and urinating on a wall. They then got out of the situation by paying the gas station owner for the damage. While questions about the Rio police's handling of the incident came to light after USA Today reconstructed the events, it is clear that significant aspects of the original robbery story were fabricated.
On Friday, Lochte released a statement with an apology, saying he regretted not being more careful and candid in his description of the events. But for people in Rio, the damage to their city's image is not yet fixed.
Speedo tweeted its formal statement on Monday:
The official response regarding our sponsorship of Ryan Lochte. pic.twitter.com/0DdP2RyceD

— Speedo USA (@SpeedoUSA) August 22, 2016
Other brands that have sponsorship deals with Lochte include Ralph Lauren and Japanese mattress company Airweave. Ralph Lauren said that it will not be renewing its contract with Lochte while Airweave told Bloomberg that it intends to maintain its partnership with the swimmer.
The spokesperson of the International Olympic Committee, Mario Andrada, made headlines when he defended the swimmers' behavior on Thursday saying, "Let's give these kids a break. Sometimes you take actions that you later regret. They are magnificent athletes."
Considering Lochte is 32, that defense seems out of place, especially after social media users bullied U.S. gymnast Gabby Douglas, who is only 20, for being "unpatriotic" during the Olympics.
The bizarre situation led to many reactions on social media, a pattern that continued in light of Speedo's decision to drop its sponsorship on Monday:
Speedo publicly drops Ryan Lochte. I always assumed it would be the other way around.

— Kyle Clark (@KyleClark) August 22, 2016
Hard to believe a guy with bleached hair in 2016 would turn out to be a total douche. #LochteMessMonster

— KevinDillon (@Dillonopolous) August 18, 2016