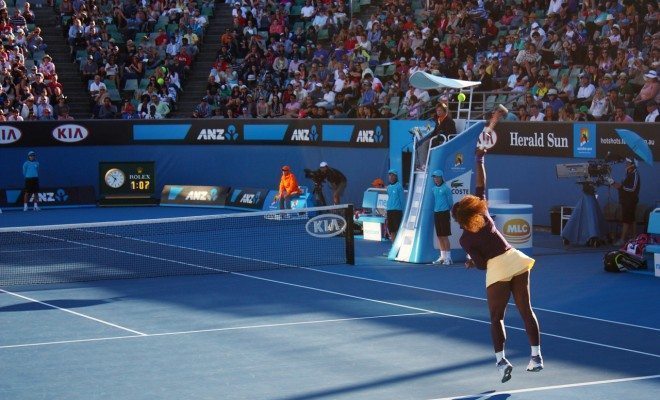 Image courtesy of [Claudio Jofré Larenas via Flickr]
Sports
Serena Williams Served Up Backlash and Criticism for "Sportsperson of the Year" Win
By
|
On December 14, 2015, Serena Williams was named the Sports Illustrated "Sportsperson of the Year." But, despite the fact that Williams went 53-3 in the 2015 season and earned five titles including Wimbledon, the Australian Open, and the French Open, and despite the well-earned SI title for her dominant performance in tennis, Williams' accomplishments haven't been without severe criticism and personal attack.
Quite noteworthy is the fact that a woman has not achieved this title by herself in over 30 years–since 1983. Yet, to the dismissal of such an empowering feminine feat and celebratory cause, the public lost their bananas that American Pharaoh, the Triple Crown winning horse, did not win "Sportsperson of the Year."
Huh? Excuse me for not understanding, but why would a horse trump a person for the Sportsperson award? How does that make any sense? The outrage over Williams' triumph is actually quite ridiculous–that in and of itself is the outrage–that people cannot support a strong, confident, independent woman who is setting an impeccable example of dreaming, hard work, and success for young women and athletes around the world.
Further adding insult to injury, not only did the haters loudly and colorfully express their disdain that Williams won SI's "Sportsperson" award, claiming that American Pharaoh was at a disadvantage because he "couldn't display sportsmanship," something that can only be done by a person, but critics further lashed out at the magazine's cover rolling out the royal treatment to highlight the award's recipient. Critics actually defended and made an argument for American Pharaoh under an affirmative action basis–that the criteria and policy used by Sports Illustrated placed American Pharaoh at a disadvantaged position to show sportsmanship and be the "Sportsperson of the Year." What? Ridiculous. As the queen of tennis sat on her gold throne, dazzling in black lace, looking as powerful and dominant as ever, the persistent and consistent racist, dehumanizing, and body-shaming critics trolled in. Williams, a developing and trending fashion icon who has her own HSN line and has graced the covers of various magazines, including Vogue (twice), and is no stranger to criticism, took the cynics on in stride like the lady that she is, stating:
I've had people look down on me. I've had people put me down because I didn't look like them, I look stronger. I've had people look past me because of the color of my skin. I've had people overlook me because I was a woman. I had critics say I will never win another Grand Slam when I was only at number seven and now here I stand today with 21 Grand Slam titles and I'm still going.
Serena Williams used a platform built out of negativity, stereotypes, racism, misogyny, and hate to spread a positive and inspiring message to women and people of color–chase your dreams and do not for a minute focus on what other people say about you because they will talk regardless. "You have to believe in yourself…sometimes you have to be your own cheerleader," Williams stated in her speech posted above.
Her point is proven in the fact that she has consistently dealt with body-shaming critics, some saying that she is too large, too muscular, too masculine, and overly built, which drastically separated her in appearance from her opponents. It did separate her from her opponents most notably in her performance and domination of the sport, and her own opponents began to highlight her different appearance in negative ways. In 2012, Caroline Wozniacki stuffed her chest and behind area with towels to imitate Serena Williams against Maria Sharapova.
Most recently, it has been said that Williams' SI cover makes her thighs look too skinny or that she is buying into the idea that sex sells and spreading the ideology, against feminism and women, that sexiness in marketing is required to get attention and recognition as a female athlete. However, the double standard holds true–men gracing the cover of SI for the "Sportsperson of the Year" award have never had to worry whether their cover would be seen as too sexy or too suggestive. How exactly is a woman supposed to present herself when she is told she is too large and too masculine one minute and too sexy the next? Is there a happy medium?
Regardless of the haters, Serena Williams deserves to be the Sports Illustrated "Sportsperson of the Year." Her domination in tennis highlights her as one of the best female tennis players in history. She is a strong and independent woman who is setting an incredible example for young women and female athletes. Let us silence the neigh-sayers because this queen absolutely deserves her throne.