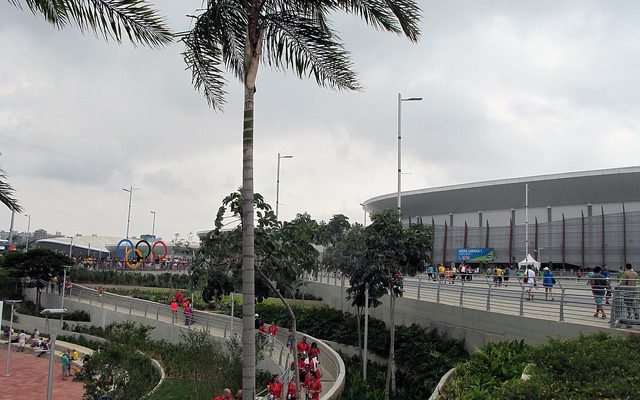 Image Courtesy of [seanfoneill via Flickr]
Sports
Second Olympic Boxer Accused of Sexual Assault in Rio
By
|
A second Olympic boxer has been arrested in Rio on allegations of sexually assaulting a housekeeper. Jonas Junius, a 22-year-old Namibian boxer who was scheduled to compete in the welter weight division Thursday, is said to have allegedly grabbed and kissed a maid before offering her money to have sex with him.
BREAKING: Boxer Jonas Junius has been arrested for an attempted sexual assault of an Olympic Village housekeeper. pic.twitter.com/aj4XEDw8WZ

— Namibian Sun (@namibiansun) August 8, 2016
Junius' case was preceded last week by the Friday arrest of Moroccan boxer Hassan Saada, 22, who is being detained in a Rio jail for 15 days for allegedly sexually assaulting two Brazilian maids in the Olympic Village.
Chief investigator Carolina Salomao told CBS New, "They were cleaning the room right across his, and he assaulted them. He groped the breast of one of them and touched the other woman's thigh. They were able to get out."
Under Brazilian law suspects can be held for long periods of time while police gather evidence. He was scheduled to fight Saturday against Turkish boxer Nadir Mehmet Unal in the light heavyweight division. Saada's lawyers attempted to obtain a special release to allow him to compete, but it was denied.
Moroccan boxer Hassan Saada has been arrested for sexually assaulting two female cleaners in Rio. #Starrfmsports pic.twitter.com/4VdePeekLt

— Starr 103.5FM Sports (@Starrfmsports) August 5, 2016
Junius, who was the honored flag bearer for Namibia during the Olympic Opening Ceremony, will also be held for 15 days while Rio police investigate the assault claim.
There's something eerie about the similarities of the two cases–both suspects are 22-year-old boxers accused by housekeepers. Still, with details at a minimum and investigations underway, it's impossible to speculate if the cases have a connection, or are unfortunate coincidence..
Click Here to Read About the Sexual Abuse Coverup Claims Rocking the Gymnastics World Before Rio