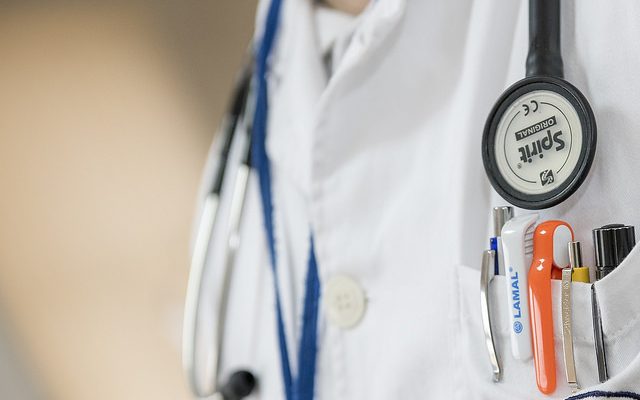 "Hospital" Courtesy of Hamza Butt License: (CC BY 2.0)
Society and Culture
Bipartisan House Bill Aims to Give Survivors of Sexual Assault Better Care
By
|
Survivors of sexual assault could receive around-the-clock access to a specialized medical examiner if a bill proposed by a Texas congressman passes.
Representative Ted Poe (R-TX) introduced a bill on July 26 that would require hospitals to provide access to sexual assault forensic examiners (SAFEs) or sexual assault nurse examiners (SANEs) for survivors of sexual violence. SAFEs and SANEs are specially trained examiners who are certified to provide forensic examination to survivors of sexual assault. According to a statement from Poe, hospitals would be required to have a SAFE on staff 24/7 or a plan to transport survivors to an area hospital that can provide forensic services. Representative Carolyn Maloney (D-NY) co-sponsored the bill with Poe.
The bill, titled the Megan Rondini Act, is named after a University of Alabama student who committed suicide after her alleged rape. Rondini's case was recently investigated by Buzzfeed News.
According to that investigation, Rondini alleged that T.J. Bunn, the son of a wealthy businessman, raped her after she blacked out at a bar with friends. Buzzfeed News reported that Rondini went to the authorities, but that the police focused on the fact that Rondini didn't physically resist Bunn, despite telling him that she didn't want to have sex with him. Rondini sought charges against Bunn, but later dropped them after learning that she could face felony charges for taking his gun while he was passed out–which she dropped outside after accidentally firing it. Unable to receive assistance from law enforcement or her university, Rondini withdrew from school and returned to her family's home in Texas. However, Rondini's depression and anxiety worsened, and on February 26, 2016, she committed suicide.
Poe introduced his bill to improve treatment for survivors of rape and sexual assault.
"Rape is a crime that destroys the very soul of a victim," Poe said in his statement. "Often times, it is a fate worse than death. A victim must relive their attack over and over again…. The failures that drove Megan to commit suicide must not be allowed to continue in our society. Victims must be given a voice and the ability to have evidence collected and tested to bring them justice. This legislation helps give them both."
The bill awaits further consideration until after the House of Representatives' summer recess, from July 29 to September 5.