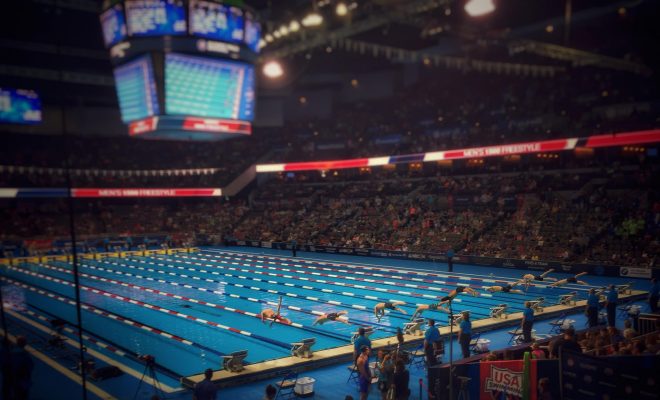 Image courtesy of [Shelby Bell via Flickr]
Sports
Ryan Lochte, Other Team USA Swimmers, Victims of Armed Robbery in Rio
By
|
Concerns about violence in Rio in the weeks and months leading up to the 2016 Olympic Games were certainly present–and they seem to have been at least somewhat founded, given that there have already been quite a few incidents. But one of the most well known American stars of the Games, swimmer Ryan Lochte, was robbed at gunpoint last night (along with three other American swimmers), in what may end up being one of the more high profile crime stories of the Rio Olympics.
Lochte was with other Team USA swimmers Gunnar Bentz, Jack Conger, and Jimmy Feigen. They all left a party together at "Club France," hosted by the French Hospitality Club, around 3 AM and got in a cab. Lochte described the mugging to NBCNews, saying:
We got pulled over, in the taxi, and these guys came out with a badge, a police badge, no lights, no nothing just a police badge and they pulled us over. They pulled out their guns, they told the other swimmers to get down on the ground — they got down on the ground. I refused, I was like we didn't do anything wrong, so — I'm not getting down on the ground.

And then the guy pulled out his gun, he cocked it, put it to my forehead and he said, 'Get down,' and I put my hands up, I was like 'whatever.' He took our money, he took my wallet — he left my cell phone, he left my credentials.
The incident was confirmed by the U.S. Olympic Committee, but a spokesperson also said that they athletes "are safe and cooperating with authorities."
Bentz, one of the swimmers who was mugged, also tweeted:
@TheGunnyBunny P.s. the gold medal is safe 😂

— Gunnar Bentz (@TheGunnyBunny) August 14, 2016
With all the safety concerns associated with the Rio Games, a high profile incident like this seemed almost inevitable. While thankfully only possessions were lost, it's expected that security could continue to be ramped up as the Games continue this week.