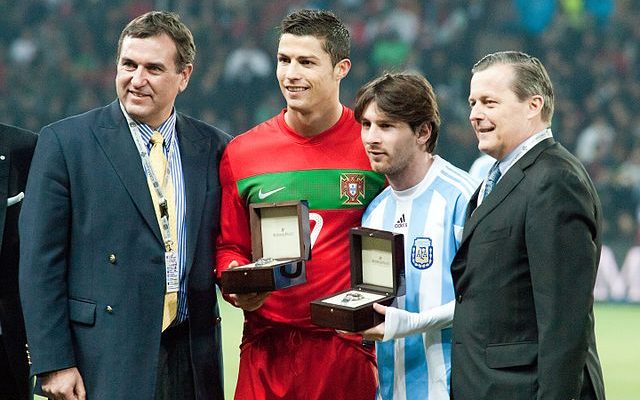 "Cristiano Ronaldo (L), Lionel Messi (R) – Portugal vs. Argentina, 9th February 2011 " Courtesy of Fanny Schertzer; License CC 3.0
Sports
Ronaldo Versus Messi: Spanish Tax Fraud Edition
By
|
As the star players of two of the largest clubs and fiercest rivals in European soccer, Cristiano Ronaldo and Lionel Messi are constantly pitted against one another in arguments all over the world to determine who the greater player is. Ronaldo supporters will point to his sheer power and athleticism, combined with his knack for scoring goals. Messi supporters will counter with the Argentinian's technical abilities and unmatched eye for the game.
But the two have decided to challenge one another in a new competitive realm. On Tuesday, Ronaldo was called to appear in court on July 31 to testify in a case in which he is accused of evading taxes. The announcement came less than one year after rival Messi was found guilty of three counts of tax fraud by a Barcelona court.
Just as no two players are created equal, no two tax fraud cases are either. In order to settle the debate of who truly is the best player, we need to find out who had the better tax-related scandal. Each case will be analyzed using five different criteria: total taxes missing, the player's excuse, their alleged reactions to the accusation, the locations where the money was hidden, and the potential prison sentence.
Total Taxes Missing
Earlier this month, the Spanish daily sports newspaper Marca reported that Ronaldo is accused of evading 14.75 million euros ($16 million) in taxes between 2011 and 2014, totaling around 3.7 million euros ($4 million) a year. Of course, that total was not reached in such a nice-and-easy manner. Spanish authorities say that the amount of taxes evaded grew over time, with 1.39 million euros in 2011, 1.66 million euros in 2012, 3.2 million euros in 2013, and 8.5 million euros in 2014.
Messi, on the other hand, was convicted of tax evasion for his unpaid dues between 2007 and 2009. Much like his Champions League campaign with Barcelona this year, Messi's efforts to keep up with Ronaldo simply were not enough. The Argentinian forward totaled only 4 million euros in unpaid taxes (roughly $5.3 million), according to Forbes. Even on a year-by-year average, he doesn't come close to Ronaldo, averaging only 1.3 million euros a year.
Winner: Ronaldo. Numbers don't lie.
Excuses
Jamaican-American reggae fusion singer Shaggy said it best when he simply replied, "it wasn't me" to admittedly legitimate accusations of adultery back in 2000. Messi decided that this was the best course of action as well.
During his trial, he admitted that he had not read many of the documents that he signed during that time period and claimed that he had no idea how the tax system operated in Spain. This tactic worked at first, as Spanish tax authorities decided to accept the superstar's reasoning in 2013 and initially only charged Messi's father. But in 2014, a Spanish prosecutor decided to expand charges to Messi, saying, "even 10-year-old children" know taxes must be paid.
Ronaldo's defense focused on the technical details of the charges, as well as intent. His legal team argued that the Spanish government is overstepping their bounds by taxing income that he earned abroad. They've also said that he paid tax to the Spanish treasury on 20 percent of his total image rights when, in fact, more than 90 percent of these are generated outside Spain. "There is no tax evasion scheme… There has never been any hiding nor any intention to hide anything," Ronaldo's representatives said.
Winner: Ronaldo. His legal team basically said, "it's not his fault he's so popular." That's bold.
Initial Reactions
It seemed like the story of the summer for many. After the accusations against Ronaldo came to light, numerous media outlets–including the BBC–reported that the Portuguese superstar wanted to leave Spain to get away from the legal mess. Naturally, Manchester United, the club where he grew to international fame, was one of the first listed as a likely destination, exciting fans everywhere.
But at the time of the initial accusations against him, it seemed like Messi was keeping calm, cool, and collected. However, it was reported that he also wanted out of Spain to join his former Barcelona manager Pep Guardiola at Manchester City after the 21-month jail sentence was handed down to him and his father.
Winner: Messi. Ronaldo's tantrum was reported by all major European news outlets. The most reputable source for Messi's was the Daily Mail.
Where they Stashed the Money
Messi's money was reportedly embezzled through offshore accounts in the U.K., Switzerland, Uruguay, and Belize. Ronaldo's only made it to a shell company in the British Virgin Islands.
Winner: Messi. He clearly tried harder.
Prison Sentences
Spain has an unwritten rule that any sentence less than two years does not actually have to be served in prison and can be substituted with probation. Messi made it just under that bar with his 21-month sentence, though at one point it could have been as high as five years along with millions in fines.
Ronaldo's situation might be a bit more difficult to overcome. The BBC reported that three of the four accusations of tax fraud are considered by prosecutors to be "aggravated," which means they carry a minimum sentence of two years each, and if all four are met with guilty verdicts, he could face up to seven years. In order to slip under the two-year maximum, Ronaldo would have to admit guilt and pay taxes and fines in advance to get his sentence suspended.
Winner: Messi. Sentenced to less than two years and not actually having to serve them.
The debate over who is the best on the pitch will rage on well after both have retired, but the question of who is better at defrauding the Spanish government of taxes has well been decided.
Overall Winner: Messi 3/5