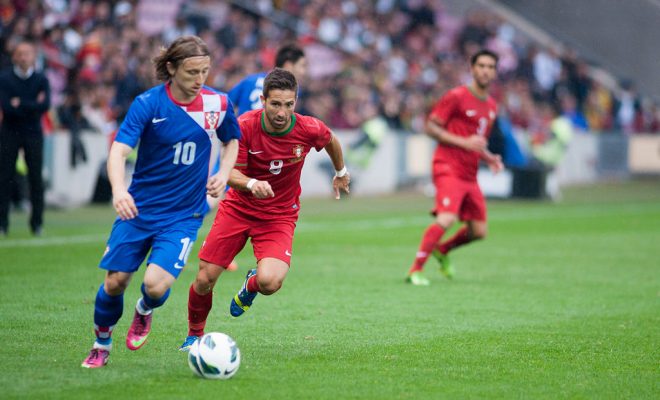 Image courtesy of Fanny Schertzer; License: (CC BY-SA 3.0)
Sports
Does a Corruption Trial Have the Possibility to Transform Croatian Soccer?
By
|
The recent history of Croatian soccer has forced its supporters to go from dreams of glory to heads hung in shame. Between its creation in 1991 to its third place World Cup finish in 1998, the country experienced the most extreme jump in FIFA rankings history–going from 125th in the world to third. In the following years, the country produced top level talent that has shined for some of the largest clubs in Europe, like Barcelona and Juventus, and showcased their abilities for the national team. But the underlying corruption that has plagued the country's soccer scene on an international and domestic level has prevented Croatia from reaching the heights it did in the late nineties, and has allowed for homegrown players to only find real success in other countries.
It appeared as though one of the heads of Croatia's corruption problems was about to be cut off when national team captain Luka Modrić appeared as the key witness at the corruption trial of a former director of one of the Croatian clubs, Dinamo Zagreb. The former director, Zdravko Mamić, is accused of embezzlement and tax evasion. When prosecutors presented, and repeated, a statement Modrić had made to them earlier in the court proceedings that would have closed the case, he nervously distanced himself from his words.
"That… That I've never said… that it… that… that it was drawn up afterwards," he told prosecutors. "I told you then that I couldn't remember when it had been done."
Just 10 days earlier, Modrić was celebrating Real Madrid's 12th Champions League title in Cardiff following a 4-1 victory over Juventus. The moment should have been a source of pride for his home country as one of their most successful exports had ascended to the summit of European soccer for a third time. Yet, within hours of his testimony, he was greeted with chants of "Luka Modrić, you little sh*t" from Croatian soccer supporters. The hotel where his family lived when they were war refugees in the 1990s was even defaced with graffiti that translates to "Luka, you'll remember this one day," and other murals dedicated to him had also been vandalized.
Mural for Luka Modric in Mostar defaced after he changed his testimony in favour of Zdravko Mamic at the latter's corruption trial. pic.twitter.com/xTbRRygzYP

— Rusty Woodger (@rustywoodger) June 14, 2017
In order to explain why the weight of Modrić's comments resulted in such a vulgar backlash, it is important to understand who Zdravko Mamić is, what he means to Croatian soccer, and how he relates back to Luka Modrić.
Zdravko Mamić: A Rise and Pending Fall
Zdravko Mamić is the former executive director and a current adviser to Dinamo Zagreb, the winningest team in Croatia this century. Since his friendship with a former manager got him a job with Dinamo back in 1980, Mamić has had a range of influence over the club. As an adviser to the club's board in the early 2000s, he was able to dictate which players the club should sign. Over time, Mamić grew to become the executive president of Dinamo and first vice-president of the Croatian Football Federation (CFF), the governing body of all soccer-related activities in the country, ensuring his influence would be as strong as it could possibly be.
As his power grew, however, the number of controversies he became involved with increased as well. Mamić's history includes abusing reporters, general homophobia, and inciting violence following racist remarks he made toward a Serbian official. He also financially controls two of the 10 clubs in the Croatian first division and has been accused of forcing the national team to showcase players from Dinamo so he can sell them for exorbitant amounts of money to larger European clubs.
This history has led to various protests coming Dinamo fans, fans of other Croatian clubs, and even fans of other European clubs.
Mamić and five other people were arrested in 2015 for embezzling the equivalent of $17.3 million of the club's money since 2008 and not paying $1.8 million in state taxes. Prosecutors claim that this was done through illegal contracts made with some of Dinamo's most famous former players including Modrić and Mario Mandžukić, a striker for the Italian team Juventus.
Method to the Madness
Here's how Mamić was able to supposedly get away with this money: unlike in most American professional sports, players are not usually swapped for one another in trades if they are still under contract to a team. FIFA rules state that a club interested in a player has to buy out that player's contract from the club they currently play on with a "transfer fee." Once the transfer fee is agreed upon by both clubs, the buying club can enter contract negotiations with the player, and the selling club keeps the transfer fee as revenue.
What Mamić was allegedly doing was taking the transfer fees that were supposed to go to investing in the club and its players, and funneling them into his own bank account. Dinamo has earned nearly €150 million from transfers in the past 10 years. Much of it has disappeared into concealed channels, although the exact number is not known. Additionally, players abroad were required to pay some of their wages back to Mamić as a sign of goodwill for the "good" he had done for them.
The Modrić Connection
One of Mamić's biggest cash machines was Modrić, who was sold to the Tottenham Hotspurs in 2008 for €21 million, a club record for the English side at the time. Half of that transfer fee went to Modrić. Further investigation, and testimony by Modrić, showed that he would go to a bank accompanied by Mamić's son or brother, withdraw funds from his personal account and hand the cash to either of the two men. Of the €10.5 million, Modrić kept €1.7 million and the rest went to the Mamić family.
The defense argues that this was  an expected relationship between the two groups because Mamić was a benefactor to Modrić during the midfielder's youth career and helped him reach his full potential as a professional. The agreement was one of many that Mamić created with promising young players that obliged them to pay him back with their future earnings.
What is currently being disputed, and why Modrić has been such a key witness in this case, involves the date of the contract that allowed the midfielder to keep 50 percent of his transfer fee. Prosecutors argue that that portion of the contract was signed and backdated after the player had already been sold, making the transfer illegal. Modrić supposedly confirmed this in questioning last year, but denied it in court on Tuesday, claiming he was confused.
"When speaking about that, I was talking about a personal contract between Mamic and me, which regulated the split of the transfer fee," he said in his testimony. But as if that were not enough, Modrić also forgot key portions of his playing career that ended up helping the defense's case, including the year when he debuted for the national team.
Before his comments in court, Modrić was seen as the victim in this scenario. He was the poor kid from Zadar whose ignorance and naivety was exploited by the "big bad wolf"–Mamić. After his testimony, however, it will be hard to shake his association with someone often referred to as the number one enemy of soccer in the country.
No one is quite sure why Modrić changed his testimony. One theory is that he was scared of crossing such a powerful individual. Mamić's political influence is so wide,  that the location of this trial had to be moved from the capital Zagreb to Osijek–nearly 175 miles away–because of his close ties with some of the Zagreb judges.
What Comes Next?
Whatever the reason, prosecutors will have some time to sit on this new revelation as Mamić made a big scene in the courtroom on Wednesday morning, and fired his whole legal team before saying he'll defend himself. The judge ordered a recess until further notice.
Despite the self-sabotaging move, a seemingly-unavoidable Mamić conviction would not even result in much change happening, according to fervent Croatian soccer critic Anthony Zoric.
"Zdravko Mamić cannot simply be replaced," Zoric said. "For things to improve at the current federation the entire HNS board must resign. The system has been manipulated to serve the interests of Mamić and his friends."
But a change on that scale could be unrealistic and generally unattainable. Outside pressure from corruption trials might be the closest opportunity Croatian fans will get to relieve some of the issues and turn a new chapter in the soccer history of their country.  The national team has been marked by controversy while the domestic league, filled with its own set of talented players, is making more news for corruption than soccer itself. Any change might be welcome at this point.