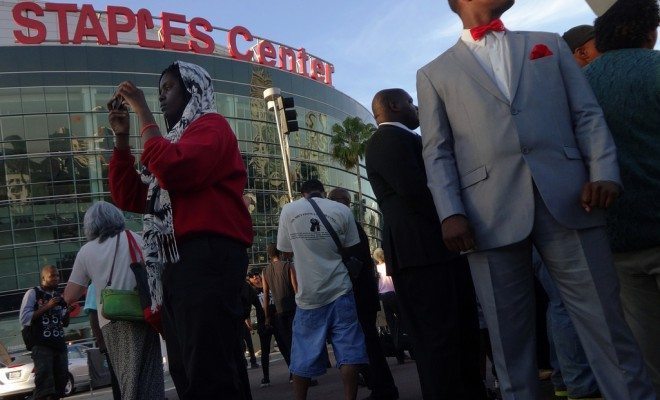 Image courtesy of [Craig Dietrich via Flickr]
Sports
Punishing Donald Sterling Is About to Get a Lot Harder
By
|
As those of us who don't live under a rock know, an audio recording was leaked to the media last weekend of Clippers owner Donald Sterling making racist remarks. Last Tuesday, NBA Commissioner Adam Silver addressed the comments and levied historic punishment against Sterling, which included a $2.5-million fine, a lifetime ban from the NBA, and a forced sale of the basketball team that Sterling has owned since 1981. The punishment has earned Commissioner Silver the praise of basically everyone, but the envy of none. That's because forcing Donald Sterling to sell his basketball team will be fraught with legal difficulties.
The greatest legal obstacle to overcome before finding the Clippers a new owner may be the antitrust hurdle. Several attorneys have opined that there's little precedent beyond financial instability that permits a commissioner to force an owner to surrender ownership rights. The NBA Constitution, made public last week, is also arguably overbroad with regard to the behavior that can earn an owner the boot. Section 13(a) states that ownership stakes may be terminated if an owner "willfully violate(s) any of the provisions of the Constitution and by-laws, resolutions, or agreements of the Association." That could include almost anything.
Leagues have been taken to court over similar antitrust issues. In 1994, former New England Patriots owner Billy Sullivan sued the NFL for antitrust violations after the league refused to let Sullivan sell a portion of the Patriots through a public stock offering.  The NFL settled the case with Sullivan for $11.5 million.
A potential antitrust case is also possible considering the domain Silver would exercise over potential buyers. Silver, like other sports commissioners, is likely to veto any buyer who plans to relocate the team to Las Vegas, due to the omnipresence of gambling in Nevada.
Sterling, on the other hand, would likely fight if the team was to be sold for anything less than $1 billion. The Milwaukee Bucks, ranked as the least valuable NBA franchise, sold this year for $550 million, $45 million more than their Forbes valuation. Considering the Clippers are in a bigger market and will soon be signing a lucrative media deal, Sterling could demand at least a $1 billion price tag.
There's also the antitrust complication posed if NBA Hall of Famer Magic Johnson were to buy the team. Having one of the all-time affable NBA legends purchase a franchise in a city that adores him seems like the perfect fit, but consider the issue this way: Can someone force a businessman to sell his most lucrative asset to the guy he spoke disparagingly of in a private message, especially if that guy has unparalleled clout and is most likely to leverage power in writing contracts with area media networks? Sterling's lawyers would say no, and they could be right.
Beyond antitrust issues, forcing Sterling to sell his team could be complicated by marital issues. The team is currently owned by a family trust, which could be liquidated or divided if Sterling initiated divorce proceedings against his wife, Rochelle Stein. Generally, property acquired during marriage in California is considered community property and subject to equitable distribution. Were Sterling to seek court intervention for a divorce proceeding, a California family court would halt any sale of the Clippers — absent mutual assent of the parties — in order to equitably distribute the community property of the marriage.  A court could potentially even award the Clippers to Stein (unlikely, but stranger things have happened in LA).
There's also the possibility that probate court could complicate a Clippers sale. That's right, in what would be filed in the "be careful what you wish for" hall of fame, Donald Sterling could die and totally screw things up for the Clippers. Like in family court, a probate court judge would presumably halt any sale of the team subject to the terms of the family trust and/or Sterling's will. If Sterling died before a sale date was set (not a ridiculous scenario), the NBA would have the displeasure of convincing a judge that the owner-approved complaint against Donald Sterling stripping him of his ownership rights also applies to the heirs and wife of Sterling despite them not having violated NBA policy.
There you have it. If he can't go to the games, then Donald Sterling will see you in hell.
—
Andrew Blancato (@BigDogBlancato) holds a J.D. from New York Law School, and is a graduate of the University of Massachusetts, Amherst. When he's not writing, he is either clerking at a trial court in Connecticut, or obsessing over Boston sports.