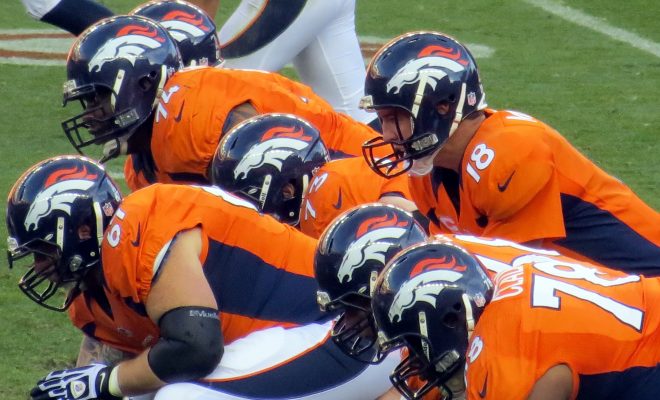 "Broncos Offense" Courtesy of [Craig Hawkins via Flickr]
Sports
Police Conclude Denver Broncos Player Aqib Talib Shot Himself in the Leg
By
|
Denver Broncos cornerback Aqib Talib is personally responsible for the gunshot wound he reported back in June, according to an independent investigation conducted by the Dallas Police Department.
The All-Pro cornerback told police an unknown individual shot him during an incident in Dallas. The shooting took place in the early morning hours of June 5 near a Dallas strip club. Talib claimed he was shot once in his right leg. The bullet, according to the police report, entered Talib's right thigh and exited his right calf. Talib didn't notify police of the incident until he had already arrived at the hospital in a 2015 Rolls Royce.
The NFL star informed police he didn't know who shot him, and a witness said he had been with Talib in a large group of people in a park when he heard one gunshot. The witness said he then found Talib on the ground and took the cornerback to the hospital. The DPD also found one gram of marijuana during the investigation, but there was no charge filed for possession.
Talib refused a follow-up interview with the Dallas Police Department. Instead, his lawyer spoke for him. The cornerback could still face discipline from the NFL as the organization continues its own investigation.
"Everything was a blur, and I was too intoxicated to remember what happened," Talib told Dallas police, according to 
WFAA-TV's Rebecca Lopez
. Lopez, a reporter at WFAA since 1998, covers the Dallas Police Department. According to her report, Talib will face no charges from the DPD and they will take his word that he didn't shoot himself.
Sources say Dallas PD has completed the Aqib Talib case. They've determined the Broncos cornerback was not shot by someone but shot himself.

— Rebecca Lopez (@rlopezwfaa) October 4, 2016
Dallas police sources say no charges will be filed against Talib. The case is closed & they are taking his word that he shot himself.

— Rebecca Lopez (@rlopezwfaa) October 5, 2016
Talib suffered only a minor injury to his leg and has started all four games for the Broncos this season.