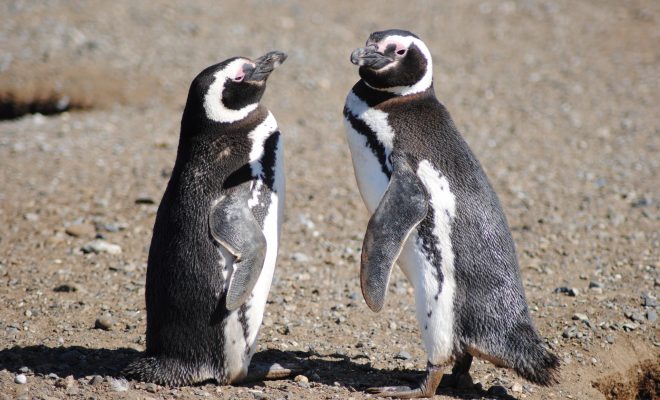 "Penguins on Magdalena Island" courtesy of Rachel Hobday; license: (CC BY 2.0)
Sports
The Pittsburgh Penguins Borrowed Live Penguins, PETA is Not Happy
By
|
The Pittsburgh Penguins seemingly thought it was a fun idea to add real, live penguins to the pre-game celebration of a recent hockey game. But animal rights activists disagreed. The penguins–the human team–played the Philadelphia Flyers in Pittsburgh last Saturday. The local zoo pitched in by delivering some penguins to play on the ice, but the pre-game show also included fireworks and pyrotechnics.
A video clip from the event shows the penguins reacting to the explosion and flapping their wings in alarm. This caused PETA, People for the Ethical Treatment of Animals, to send a letter to the CEO of the Pittsburgh Penguins in which it states that it is obvious that the penguins are "scrambling in terror."
Everything about this is terrible. pic.twitter.com/RRYJSDaCeh

— m g (@kikkerlaika) February 26, 2017
The PETA letter continued:
It's inherently stressful for wild animals–who naturally shun contact with humans and are extremely sensitive to environmental changes–to be hauled around, used as props, and exposed to noisy crowds.
PETA also criticized the Pittsburgh Zoo for allowing its animals to be treated like this. The zoo replied in a statement of its own, saying:
The penguins who attended the Winter Classic are some of the same penguins that participate in our weekend Penguins on Parade event. They are very comfortable around people and noises.
ACTUAL PENGUINS! #StadiumSeries pic.twitter.com/7VA5o9NKCR

— NHL (@NHL) February 26, 2017
The statement from the zoo said that the penguins' reaction to the fireworks is similar to that of humans' when they are startled and that it only took a few seconds before they were playing again. It also said that it was a "great enrichment opportunity for our penguins to be introduced to new sounds, sights and smells."
PETA asked the Pittsburgh Penguins not to use live animals for promotion of its team in the future, but a spokesman for the team and one for the NHL said they didn't have anything to add to the zoo's statement. PETA has long campaigned for sports teams to stop using live animals as mascots at events, but it doesn't seem like the sports world is ready to give that tradition up just yet.