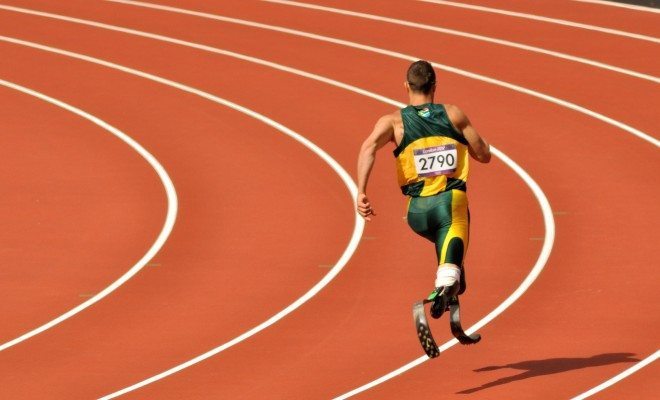 Image courtesy of [Will Clayton via Flickr]
Sports
Oscar Pistorius Leaves Prison to Chill at Uncle's House in South Africa
By
|
Oscar Pistorius, the South African Olympian and double-amputee known as "Blade Runner," was released from prison last week. In October of 2014 he was found guilty of killing his girlfriend, Reeva Steenkamp, and sentenced to five years in prison. Pistorius was charged with culpable homicide as opposed to manslaughter, a crime which would have merited more jail time.
Pause for a reminder: Pistorius claimed that the day he "accidentally" killed Steenkamp, he mistook her for an intruder. Pistorius killed Steenkamp on Valentine's Day. Steenkamp was set to give a speech on domestic abuse the day she was killed.
Needless to say, many South Africans (including Steenkamp's family) do not believe that the athlete mistakenly shot his model/reality star girlfriend. They believe the killing was intentional, and that Pistorius got caught up in his own lies.
Elements of Pistorius' testimony did not add up with forensic analysts' findings. According to BBC:
A forensic analyst contradicted Mr Pistorius' claim that he was wearing his artificial legs when he tried to break open the toilet door with a cricket bat after realising Ms Steenkamp was inside. Police Colonel Johannes Vermeulen said the angle and location of the marks on the door suggested Mr Pistorius was on his stumps.
If Pistorius lied about not having his prosthetics on, what else did he lie about? Why did he shoot his firearm multiple times if he thought the noises he heard were just an intruder?
Thankfully, Pistorius will not have access to firearms while on house arrest in (ahem) his uncle's tricked-out mansion. He is also required to attend regular counseling sessions, so long as he is "doing time"–which, as of now, means four more years.
To the American mind, it seems crazy that a man found guilty of being involved in the death of his girlfriend could possibly receive such a lenient sentence. However, under South African law, "an offender sentenced to five years or less in jail can be released to correctional supervision after serving one-sixth of the term—in Pistorius' case 10 months." Indeed, Pistorius has served a bit more than one-sixth of his sentence, so it should not come as a shock that he has been released from Kgosi Mampuru II jail in Pretoria, where he was being held.
What should come as a shock is that Pistorius was held in the hospital section of the jail, rather than in the cells with the other 7,000 inmates who are not celebrities or well-known athletes. As past Law Street articles have stated, it is problematic when a celebrity uses his or her status to acquire special treatment while incarcerated. Yes, it is true that Pistorius would have needed additional medical support as an imprisoned double-amputee in jail. However, he received preferential treatment as a celebrity athlete, which unjustly separated him from the rest of the prison community.
Additionally, Pistorius was released a full day earlier than what was announced by the State Department, in order to avoid a media firestorm. Surely no other prisoner would have been afforded the luxury of a 24-hour head-start after their release was already announced. It's time for South Africa to re-assess its court procedures when dealing with high-profile suspects and prisoners. (Heck, it should also consider overturning the 1969 law that abolished trial by jury.) But hey, some countries have to walk before they can run like a convicted Olympian.