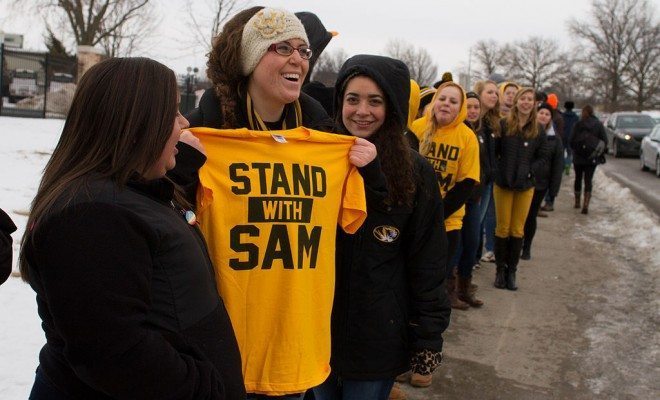 Image courtesy of [Mark Schierbecker via Flickr]
Sports
NY AG Probes NFL Questions About Players' Sexual Orientation
By
|
New York Attorney General Eric Schneiderman is again probing into the NFL's hiring policies, over concerns the coaches have been asking college players about their sexual orientations. This is just three years after Schneiderman looked into the NFL for the same kind of concerning questions in 2013.
At last month's Scouting Combine–a weeklong showcase of promising college players for coaches and other officials every February–Ohio State cornerback Eli Apple was asked by a coach for the Atlanta Falcons if he "liked men." The coach in question, Marquand Manuel, has since apologized.
Schneiderman wrote a letter to Robert Gulliver, the Chief of Human Resources for the NFL, alerting him to these concerns. In the letter, Schneiderman points out the history that his office has had with working with the NFL over issues of sexual discrimination. He wrote:
I write today with serious concerns regarding the persistence of conduct at League-affiliated recruiting events that may violate New York State law concerning sexual orientation discrimination, and specifically regarding reports of an incident at this year's Scouting Combine that appears nearly identical to the incident which triggered my office's initial inquiry into the League.
The investigation that was conducted in 2013 found no specific issues but as a result the NFL put in place things like a revised player code of conduct to try to prevent sexual orientation discrimination.
Schneiderman also highlighted other issues that the NFL has had with these kinds of questions in the past. He specifically mentioned questions asked about Michael Sam, the first publicly gay player to be drafted by the NFL.
Essentially, Schneiderman's letter focused on how questions that reference players' sexual orientation have consistently been issues in the past, and while the NFL has taken those steps to prevent those changes, complaints keep springing up. As a result, Schneiderman is asking for the league to provide "a detailed summary of the steps that it has taken to to eliminate sexual orientation discrimination and to prevent such incidents as these from occurring since our first engagement in 2013."
Brian McCarthy, a league spokesman, stated:
NFL players and prospective players have the right to work in a positive environment that is free from all forms of harassment, intimidation and discrimination. […] Our policies stress that clubs must ensure that our Draft-eligible players and potential signees are afforded a professional and safe NFL environment that is consistent with state and federal law and the CBA and reflects our shared commitment to diversity and inclusion, conduct and character.
While the probe didn't really turn up anything in 2013, Schneiderman's renewed look will hopefully keep coaches and other team officials from asking inappropriate questions moving forward.