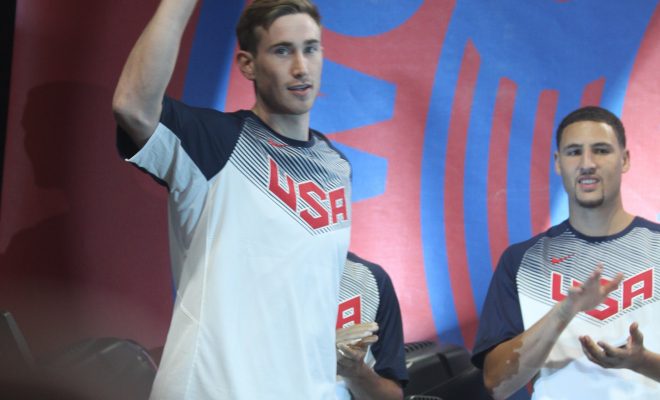 Image courtesy of TonyTheTiger; License: (CC BY-SA 2.0)
Sports
Could a "Millionaire Tax" Affect Boston's Ability to Attract NBA Stars?
By
|
For most major sports in the United States, the offseason can feel like a dull stretch of time that leaves fans yearning for the next season. The NBA, however, is somehow able to turn its league into the most exciting thing on television without a single game playing.
Every year, a new story emerges about players changing the fortunes of a franchise with the stroke of a pen, getting traded multiple times in one day, or potentially kidnapping a teammate to get him to re-sign with a team. This year, already, All-Star Jimmy Butler gave out his phone number at a press conference encouraging critics to contact him directly with any problems.
Now, it seems like politicians are getting in on the action too. Tanner Ainge, a Republican candidate running in Utah's 3rd Congressional District, used Twitter to try and curry favor with All-Star forward Gordon Hayward–who became a free agent Thursday after spending his first seven seasons with the Utah Jazz. One of Hayward's rumored destinations is the Boston Celtics. As a friendly reminder to the Hayward, Ainge decided to tweet at him a link to a news story about how Massachusetts is considering a "millionaire tax" that would increase the tax burden for high-earners.
@gordonhayward: something to consider over next few days… #takenote https://t.co/bqyEtXvnKO

— Tanner Ainge (@tannerainge) June 29, 2017
This story has a little more twist to it than just a politician attempting to gain voters through relevant sports commentary. Tanner Ainge's father is the president of basketball operations for the Boston Celtics–or, the man responsible for trying to bring Gordon Hayward to Boston this summer–Danny Ainge. The Celtics do have a tempting proposition for Hayward: make as much as $127 million over four years–per ESPN–and join a team that could possibly win the Eastern Conference. However, a new state tax could actually affect his decision.
Let's break it down. The Massachusetts Legislature on Wednesday passed a constitutional amendment to raise the tax rate by 4 percent on income over $1 million. Massachusetts currently has a flat tax, which means everyone pays 5.1 percent tax rate on their income. Pending a referendum vote in the next state election, the constitutional amendment would mean if someone earned $1.3 million, they would pay 5.1 percent on the first million and 9.1 percent on the remaining $300,000. As a result, that person's state income taxes would grow from $66,300 to $78,300. The state's department of revenue estimates this will help raise $1.9 billion for the state in 2019.
If, hypothetically, Boston and Utah were to both come to Hayward with the exact same contract–$127 million over the course of four years–the all-star would see an annual difference of over $2 million in taxes paid. If he signs with Boston, Hayward would likely pay about $11,400,000 over the course of the four years, as opposed to about $6,350,000 in Utah–which has a 5 percent state income tax–during that same period. No matter what your tax bracket is, $5 million is a lot of money.
But this is just a hypothetical and does not account for a few things. On the one hand, the current NBA collective bargaining agreement allows Utah to offer Hayward more money for a contract over a longer term. On the other hand, a dark horse candidate for Hayward from a state that has no income tax–like the Miami Heat, for instance–could swoop in and complicate the decision even further. It's also worth noting that money isn't always everything for some players, as many value the potential to win as much as their checks, which Tanner Ainge understands.
"Unfortunately, I'm not sure I have a lot of influence there," Ainge told Deseret News on Thursday. "Ultimately, Gordon is going to make the decision. I hope he stays."