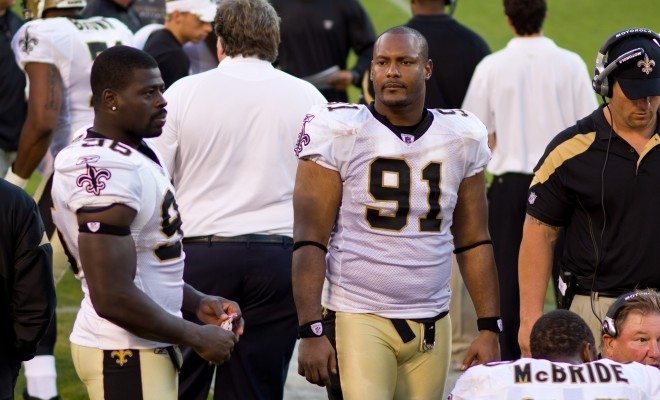 Image courtesy of [Asim Bharwani via Flickr]
Sports
What Led to the Shooting Death of NFL Star Will Smith?
By
|
Late Saturday, former New Orleans Saints defensive end Will Smith was pronounced dead after suffering multiple gunshot wounds to the chest. Smith, 34, was driving his Mercedes SUV with his wife Raquel in tow, when a minor auto accident led to an altercation that left Smith dead and his wife with 2 non-fatal gunshot wounds to her legs.
While the incident originally appeared to be a random act of road rage, details emerged throughout the week that provided a clearer picture of what happened that night. Cardell Hayes, 28, who was charged with second-degree murder in the incident, was a prep-school football star who dreamed of playing for the New Orleans Saints, according to The Daily Beast. He also reportedly had worked as a security guard for the Saints at the same time that Smith was a player. On the night of the incident, Hayes' Hummer was rear-ended by Smith's vehicle. The exact details of what followed are still fuzzy, but the accident allegedly led to an exchange of words between the two men that ended with Hayes shooting Smith.
Smith played for the Saints from 2004 to 2013, and played an important role in helping the team win the 2010 Super Bowl. His former teammates have expressed grief over the loss, including quarterback Drew Brees who spoke up on the high rates of gun violence and homicides in the city as a major factor.
Hayes has claimed no wrongdoing in the event; his lawyer told the New Orleans Times-Picayune that his client was "not the aggressor" in the situation. He also claimed that toxicology reports should be conducted, as they would "shed light on the behavior of some of the participants," insinuating that Smith was possibly under the influence at the time of the alleged incident.
Hayes also claims that their prior dealings were just coincidental and had nothing to do with the killing; he allegedly didn't even know who the victim was until the next morning.
On Wednesday, the lawyer for Hayes' passenger, Kevin O'Neal, stated that Smith was armed that night and that Hayes's actions "may have saved both of their lives."  She referred to the incident as "justifiable homicide." Police have stated that while they did find a loaded gun in Smith's car, there was "no evidence" that it had been fired. Smith's attorney also responded to these claims, saying that Smith did not threaten Hayes and had a license to carry a concealed weapon.
In another strange coincidence, Smith had dinner earlier that day with William Ceravolo, a police officer who had a history with Hayes. In 2005, a dispute in a Walgreens involving Haye's father, Anthony, led to an altercation with the police that ended in officers shooting Anthony dead; Caravolo was one of the six officers involved. Hayes sued the New Orleans Police Department for his father's death, but the officers were not charged. There is no indication at the moment that this was related to Smith's death at all.
Photo:
Will Smith 1-hour before being shot & killed, w/Pierre Thomas & former NOPD commander Billy Ceravolo.
So sad. pic.twitter.com/PMFpRm3vOl

— Fletcher Mackel (@FletcherMackel) April 10, 2016
Until more details emerge it won't be clear what exactly transpired that night, but this is clearly a tragic situation all around.