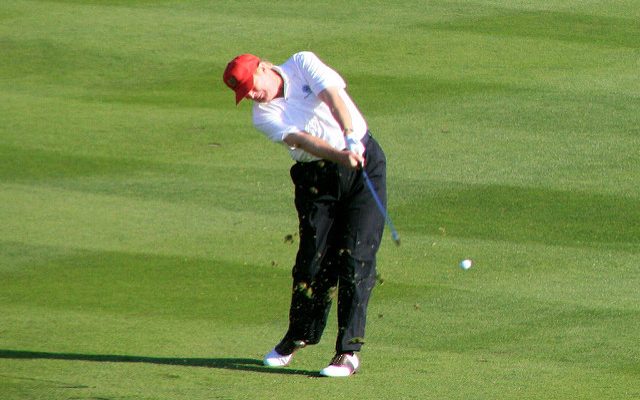 "Donald Duffs" Courtesy of Steve Jurvetson: License (CC BY 2.0).
Sports
Washington Sports Stars Spend Time with Trump and Putin
By
|
While it's been more than 20 years since a major Washington, D.C. sports team has been invited to the White House, two faces of Washington sports are getting political this summer.
Last week Washington Redskins quarterback Kirk Cousins played a round of golf with President Donald Trump at the Trump National Golf Club in Bedminster, New Jersey. Meanwhile, Washington Capitals star Alex Ovechkin attended an annual event for President Vladimir Putin where the Russian leader answered questions from a studio audience and civilians across the nation.
Neither has made any specific political statements, but the actions of both stars raised eyebrows in the nation's capital. Some fans expressed frustration on social media, but others accepted that each athlete has their own personal lives and they can do what they choose.
The District of Columbia, Maryland, and Virginia–which comprise the main fan base for both teams–all voted for Democratic nominee Hillary Clinton in the 2016 election.
Cousins said that Eric Shuster, the director of strategic partnerships at CSN Mid-Atlantic, helped put the duo together. The opportunity was too much to pass on. Cousins said the round was a great experience, adding:
I didn't ever think that would happen. Had a good enough time that if there's any former presidents in the D.C. area that want to give me a call, I'd love to meet them at one of the courses around here. I know lots of them are members at these courses and I'm not, so I'd love to get on and get to meet them. Republican, Democrat, left, right, I'd love an invite.
Meanwhile, Alex Ovechkin explained his rationale to Sovetsky Sport, a Russian outlet. Ovechkin said he was making a plea to Putin to help save the Kontinental Hockey League (KHL) from its massive financial troubles.
Alex Ovechkin goes to Vladimir Putin town hall meeting to lobby for struggling Dynamo… https://t.co/6iA87Fdy62 pic.twitter.com/1SmEDqe9tw

— Zesty NHL News (@nhl_zesty) June 16, 2017
The KHL, Europe's premier hockey league, is in serious debt, with teams owing their players more than $17 million, according to the Associate Press. Some players haven't received a salary payment in over six months.
Ovechkin's former team, Dynamo Moscow, is in about $35 million in debt and in danger of shutting down. The future Hall of Famer wants to do all he can to avoid that situation.
"It's a great pity that such things are happening in our sport," Ovechkin said. "I hope the teams experiencing difficulties will overcome them."
So both Washington sports stars had their own rationale for spending time with these world leaders. Ovechkin had a goal in mind while Cousins simply jumped at the opportunity to meet the most polarizing figure in American politics.
Neither meeting means much in the grand scheme of global politics, but it does add intrigue and anguish to the beginning of summer for many Washington sports fans.