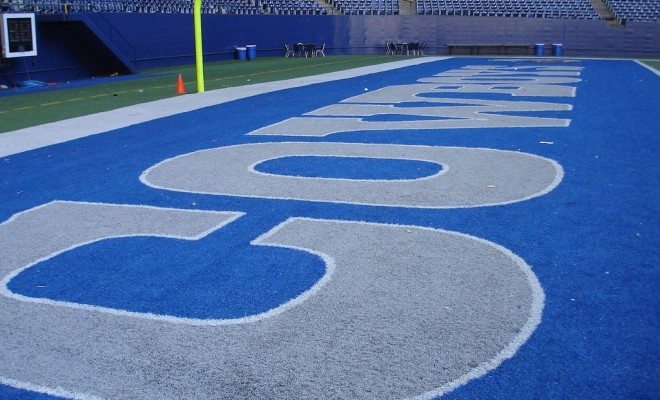 Image courtesy of [Jonathan Moreau via Flickr]
Sports
Katie Nolan Says What Everyone is Thinking About the NFL and Domestic Violence
By
|
Greg Hardy, a defensive end for the Dallas Cowboys, is returning to the field after a four-game suspension for domestic violence. According to court records, he allegedly assaulted his ex-girlfriend Nicole Holder, at one point throwing her onto a futon covered in assault rifles. But now that he's back, it's all sunshine and rainbows for Hardy, as he made inappropriate jokes to interviewers about coming out "guns blazin,'" and commented on the attractiveness of other players' wives in a spectacularly sexist  fashion. Hardy deserved some seriously hefty criticism for the fact that he showed no remorse for his actions, recognition that he'd done anything wrong, or respect for women. Well, he got what he deserved, as the harshest and arguably most badass criticism came from "Garbage Time" host Katie Nolan. And she totally, utterly, nailed it. Check out the video below:
Nolan has hosted the show, which airs on Fox Sports 1, since earlier this year. Playing off the title of her show, she denounced Hardy as a "garbage human," for his behavior, as well as the NFL, the Dallas Cowboys, and sports media for not speaking out about his inappropriate comments.
Nolan hits all the important points in her criticism, including but not limited to:
Hardy's totally cavalier attitude.
The NFL's seeming endorsement of his comments when they put them on the league's website.
The Cowboys' posting of the interview on their site.
The fact that a reporter asked Hardy a question about finding another player's wife attractive instead of following up with him about the very real, important, and upsetting reasons why he was suspended.
But what hit closest to home was Nolan's explanation of the fact that no one seems to find this problematic because the NFL doesn't care about its female fans. She stated:
Greg Hardy had to pretend to respect women for 12 minutes — just 12 minutes — and he couldn't even do that. And what's worse: No one stopped him. They let him go on about girlfriends and guns, and posted video of it on DallasCowboys.com, because who f***ing cares, right? Women won't see it. Women only care about football during those events they run where they tell them what to cook on game day and give them free manicures.
It's a powerful statement, but more importantly, it really does seem to be true. After the controversy over Ray Rice's suspension–also for domestic violence–last year, the NFL pledged to do better. While the NFL has taken some positive steps, including partnering with organizations that combat domestic abuse and violence and reforming some of its polices, the way that Hardy's return to the game was handled shows that it's clearly not enough. The NFL, the Dallas Cowboys, and the reporters who interviewed Hardy could all still do way better. Many kudos to Nolan for pointing it out.