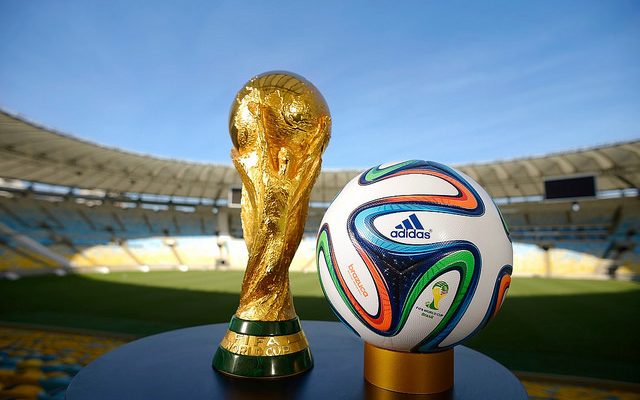 "The World Cup" Courtesy of Mariya Butd, License (CC BY 2.0)
Sports
German Newspaper Publishes "Suppressed" FIFA Corruption Report
By
|
In 2010, the 22-member FIFA Executive Committee awarded Russia and Qatar the 2018 and 2022 World Cups, respectively. These decisions stirred up major controversy among media commentators and government officials all over the world. As a result, allegations that the two countries bought their way into hosting the international soccer tournament during the 2009 bidding process began to spring up.
Though the accusations were serious, they were not exactly unfounded. Before the committee voted on which country to award the World Cups, two of its members were suspended due to allegations of vote corruption from their respective soccer confederation regions–Oceania and Nigeria. FIFA also branded Qatar as a "high operational risk" for hosting the tournament due to its average summer temperatures of 115 degrees Fahrenheit and challenges linked to stadium locations. Russia was the only other bid to not have a "low risk" rating.
The controversy has only grown since then. Since the 2010 vote, most members of the committee at the time have been banned for unethical conduct, indicted on corruption charges by the U.S. Department of Justice, or remain under scrutiny by federal prosecutors in Switzerland–where FIFA headquarters are located–who have 25 ongoing investigations involving more than 170 bank transactions suspected as money laundering.
On Monday, a new development occurred. A German newspaper published a portion of a leaked 2014 report–which FIFA commissioned–once expected to be the explosive holy grail for FIFA critics who thought the votes that gave the World Cups to Russia and Qatar could be rerun.
According to the report in Bild, three FIFA executive members were flown to a party in Rio in a private jet belonging to the Qatari federation just before the vote for 2018 and 2022 hosting rights, and Aspire Academy–an independent Qatari government-funded agency that provides "sports training and education to students with sporting potential"–was implicated "in a decisive manner" in "the manipulation of FIFA members who had the right to vote." It also mentioned a $2m sum allegedly paid to the 10-year-old daughter of another FIFA official just before the vote.
The report was supposed to be released in 2014 under the authorship of American lawyer Michael Garcia–known for prosecuting the men who bombed the World Trade Center in 1993 and investigating former New York Governor Eliot Spitzer. FIFA hired Garcia in 2012 to investigate the World Cup bidding process. FIFA decided to release a 42-page summary that "cleared" Russia and Qatar of corruption. Garcia called the edited report "incomplete and erroneous" and subsequently resigned in protest citing "lack of leadership" at the organization, which led many to believe that the public would never see the full, unedited version.
Other critics of the redacted report include Simon Johnson, who led England's bid to host the 2018 World Cup. "Now that I have seen Mr Garcia's statement, I am absolutely convinced that the report is a politically motivated whitewash," he told the BBC. While Qatar and Russia were vindicated by the report, England's Football Association was accused of flouting bidding rules.
As a response to the initial leak, FIFA–in a rare sighting of transparency–released the full Garcia report on Tuesday. The message generally remained the same: there was no "evidence of any improper activity by [Qatar]." Peter Rossberg–the journalist who claims to have obtained the report–said in a Facebook post that the full report does not provide outright proof of corruption during 2018 and 2022 bidding, but more findings could arise when everything is put together "like a puzzle."
The full report still brought other findings to light about the relationship between FIFA executives and entities connected to Qatar. South American FIFA voting member, Julio Grondona, failed to disclose meetings to the investigators as well as a discussion about Qatar potentially paying for flights before his death in 2014. An adviser to Thailand's soccer federation, whose leader was a FIFA voter, was involved in talks between a Thai gas company and Qatar over an energy deal with Doha. Garcia referred to both of these incidents as troubling and suggested that further inquiry be made.
The report also found that the Qatari heat was never discussed in the executive committee meeting before the vote, not even by the voter who also served as FIFA medical chief, Michel D'Hooghe, who was "compromised by his actions" over Qatar, according to Garcia. D'Hooghe's son was later employed by a Doha hospital linked to the Aspire sports academy  and the bid team was also arranging a business opportunity for a friend's son ahead of the vote.
Whether or not this will actually result in any sort of sanctions levied against Qatar, or even an outright abdication of its position as World Cup hosts, remains to be seen. The only existing precedent of the tournament getting moved was when Colombia was supposed to host the 1986 World Cup. In that instance, a continent-wide economic collapse had inhibited the country's ability to afford it. Colombia backed out in 1983, which gave the new host, Mexico, nearly three years to prepare.
As to what it would take for FIFA to remove Qatar as hosts, in 2015, then-FIFA president Sepp Blatter said that only an "earthquake, extremely important new elements," could change the organization's decision to hold the 2022 tournament in the Gulf state. At this point, any movement seems unlikely.