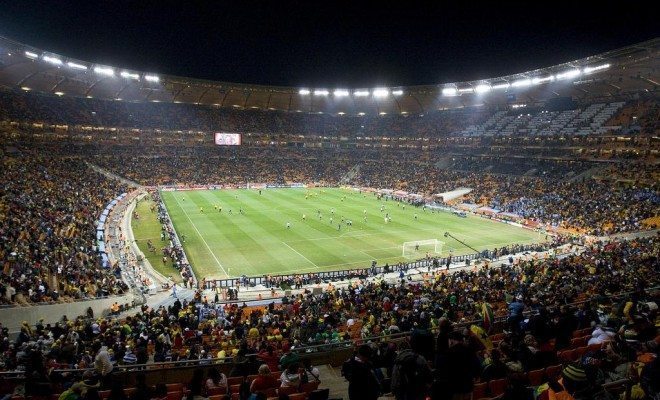 "Soccer Stadium" courtesy of [martha_chapa95 via Flickr]
Sports
FIFA 2016: Can Sepp Blatter and Michael Platini Get Back to Soccer's Inner Circle?
By
|
Michael Platini, former UEFA president, and Sepp Blatter, former FIFA president, were denied appeals on their ban from all football activities this week. However, the FIFA appeals committee did decide to reduce the ban from eight years to six, based on the duo's "service to the game." Both Platini and Blatter claim they are innocent and plan to appeal to the Court of Arbitration for Sport to lift their ban, but with the election of Gianni Infantino as President of FIFA, it appears that the soccer world is moving on without them.
Infantino was previously an adviser to Platini, but when seven of FIFA's highest ranking officials were arrested five months ago, he transitioned from UEFA secretary general to the race for the FIFA presidency–a far more contentious position. Infantino's primary competitor was Sheikh Salman, who ran on a platform of transforming FIFA from a Euro-centric governing body to a truly international organization that would recognize the interests of soccer around the world. Despite this noble ideal of creating a more equitable soccer world, Sheik Salman did not build the solid constituency that Infantino managed to construct.  This could be attributed to Sheik Salman's allegedly checkered past when it comes to human rights–he was connected with the jailing and torture of Bahraini athletes who peacefully protested against his family during the Arab Spring.
Infantino has multiple issues to tackle during his first several weeks in office. The most immediate concern regards Russia and Qatar's respective bids for hosting World Cups. The circumstances by which those countries secured the bids are under investigation by Swiss law enforcement, but the chance of FIFA reneging on the bids is relatively slim. Construction has already begun on stadiums and tourist attractions in Qatar, and although the working conditions on these construction sites have caused outrage among human rights activists, there is no sign of development slowing down.
A troubling prospect for the 2022 Qatar World Cup is that Platini and Blatter might be able to return to football just in time to participate in the tournament. The shortening of their sentences leaves the door open for them to participate, either within FIFA or through smaller organizations that will be working on logistical issues in Qatar. Argentina's legendary Diego Maradona recently stated that he feels Platini and Blatter should receive life in prison for their abuse of power, and while that seems like an extreme reaction, it is clear to many that their current sentence is not a sufficient punishment for their crime.
Missing the 2018 Russia World Cup may be a blow to the egos of Platini and Blatter but if the two men are allowed to participate in the Qatari World Cup, they could be able to step back into their old habits without missing a beat. By 2022, Infantino may enact broad reforms of FIFA activity during his tenure but the return of Platini and Blatter would automatically undermine any of those actions. If the Court of Arbitration for Sport moves to completely overturn the ban on football related activities that was upheld this week, then FIFA may never escape its reputation for corruption.