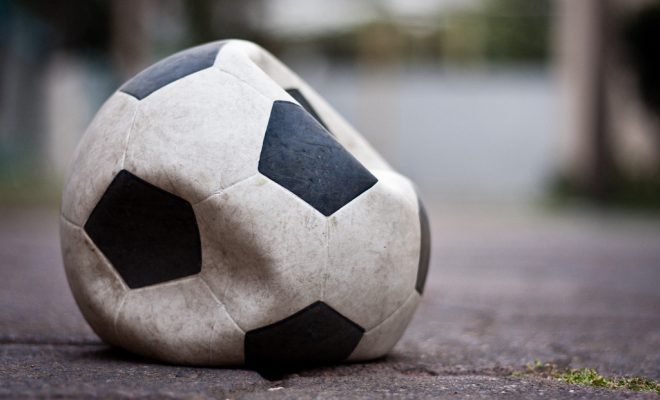 "Soccer Ball" [Courtesy of Armando Sobrino]
Sports
Euro 2016: Clashes Erupt in Stadium, Spill onto Marseille Streets
By
|
The sights and sounds lent the midday scene a feeling of political unrest: fists, chairs, and bottles were thrown. People yelled, incomprehensibly and passionately, at high volume. Glass shattered on the concrete. Police fired tear gas into the raucous crowd. This was not a reaction to oppressive politics or even a protest of a law, however. It was the seaside city of Marseille, France on Saturday afternoon, after Russia and England squared off in the Euro 2016 soccer championships.
And on Sunday, as a result of the violent clashes between Russian and English fans, the Union of European Football Associations (UEFA) threatened to disqualify both teams from the tournament if the brawling continues. "Such unacceptable behaviour by so-called supporters of the national teams of England and Russia has no place in football, a sport we must protect and defend," read a statement released by UEFA, which also urged the soccer organizations of both countries to condemn the actions of their supporters.
Things first got testy during the game–which ended in a 1-1 tie–when Russian fans reportedly set off flare guns and stormed the barriers that are designed to separate rival fans. By the end of the day Saturday, 31 people were injured (four critically), and 17 arrested. Moving forward, UEFA promised security would be "strengthened," following the lax pat downs dolled out by security guards on Saturday, which allowed Russian fans to bring in flares undetected. 
Rebekah Vardy, wife of English striker Jamie Vardy, tweeted about the incident, which she was swept up in before the game even started:
That has to be up there with the worst experience EVER at an away game! Teargassed for no reason, caged and treated like animals! Shocking!

— Rebekah Vardy (@RebekahVardy) June 11, 2016
UEFA is considering immediate action against Russia–which is set to host the 2018 World Cup–on Tuesday. During the 2012 Euro Championships in Poland and Ukraine, Russia was fined £150,000 ($213,310) and hit with a six point deduction toward qualifying rounds for the 2016 tournament. For its part, the British government has offered to send extra police forces to Marseille.
Both the Russian and English soccer bodies supported UEFA's moves to punish the teams. "We strongly request that you show due respect to the opponents and their supporters," said a statement published by the Russian Football Union. "We kindly remind you that the matches of our national team are under scrutiny of international football disciplinary bodies."
England's counterpart, the Football Association, agreed. Chief Executive Martin Glenn said: "We understand the potential implications of our supporters' actions and wholly accept that every effort needs to be made by the FA to positively urge them to act in a responsible and respectful way."