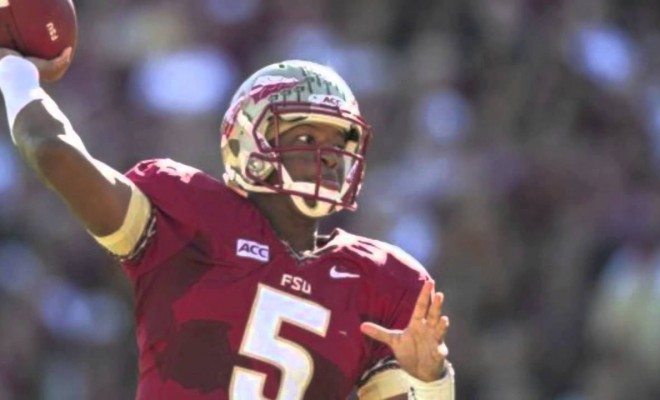 Sports
Did FSU Drop the Ball on Jameis Winston Rape Case? DOE Investigates
By
|
It was difficult to discern reality from fantasy in Tallahassee last winter. Jameis Winston, the college football phenom who was leading Florida State to an undefeated season, was dealt a hard dose of real word problems when he was investigated for sexual assault in November.  If charged, he would likely face suspension, and FSU's dream of becoming national champions would remain fantasy. In December however, Winston was cleared and no charges transpired. The following week, Winston won the Heisman Trophy, and a few weeks later he led his team to a dramatic victory to claim the national championship. It appeared that reality was indeed sweet, and the rape investigation was simply a bad dream. Or was it?
On April 3, the Federal Department of Education (DOE) announced that they would be investigating FSU for whether they improperly handled the Jameis Winston sexual assault case. Under the landmark legislation known as Title IX, universities are required to "promptly investigate" reports of sexual assault. FSU may not have investigated quickly enough, according to the DOE.
FSU's alleged failings were highlighted on April 16, when the New York Times published an article detailing the missteps of both the University and the Tallahassee Police Department, and charging that the University didn't investigate when they initially found out about the alleged incident in January 2013.
FSU fired back at the New York Times, claiming in part that "no university official outside the Victim Advocate Program received a report from any complainant naming Winston prior to when the allegations were made public in November 2013." At first glance, the statement would seem to exonerate the University. On closer inspection, a rather high burden is placed on the victim in order for FSU to comply with Title IX. Must a university official receive a report from the complainant in order to investigate? Must an accuser be named in order to investigate?
A cursory look at the DOE's guidelines on sexual assault suggest no. In fact, the following line seems to suggest that schools err on the side of caution:
"…if a school knows or reasonably should know about possible sexual harassment or sexual violence, it must promptly investigate to determine what occurred…"
It is possible that Winston's accuser failed to tell anyone employed by the University about her assault. After all,Tallahassee police primarily handled the report because the incident happened off campus. I called both the Tallahassee Police Department and the Florida State University Police Department (FSUPD)  to follow up on this matter. I asked if there is a policy requiring that arresting officers, whether employed by the school or by the city of Tallahassee, notify the University upon arresting an enrolled student. FSUPD responded that it is practice for all officers to report student-arrests to the University, at which point the University handles any academic penalties according to the student conduct code.
Is it possible that Tallahassee Police report to the University only student-arrests and not allegations of sexual assault on students? The logic behind such a policy may be difficult for DOE investigators to understand, as would the general excuse that although the Tallahassee Police Department knew of a fairly detailed sexual assault accusation on an FSU student since December 2012, the University did not know until the following November.
In the ensuing months, one if not both institutions will be to blame. Either the Tallahassee Police failed to tell FSU, or FSU failed to investigate when they were told by police. If it's the latter, expect harsh penalties from both the Department of Education and the NCAA. If FSU football thinks they'll avoid that reality, they better wake up.
—
Andrew Blancato (@BigDogBlancato) holds a J.D. from New York Law School, and is a graduate of the University of Massachusetts, Amherst. When he's not writing, he is either clerking at a trial court in Connecticut, or obsessing over Boston sports.
Featured image courtesy of [Zennie Abraham via Flickr]