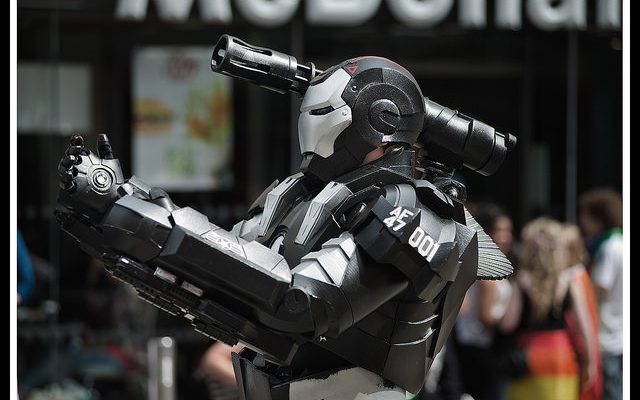 "Robot Cops" Courtesy of Stephen Bowler. License: (CC BY 2.0)
Technology
Dubai Brings Real Robocops to its Streets
By
|
Have you ever been driving on the highway just a tiny bit over the speed limit, and then a sneaky robotic cop pulls you over? No? Well you may have an encounter just like that someday in the not-so-distant future.
Last month, Dubai introduced its first autonomous police robot, known as REEM. REEM stands at 5'7″, weighs approximately 220 pounds, and looks loosely based off the robots introduced in the 2004 Will Smith film "I, Robot" (but definitely not as cool). While it has complete autonomous navigational control, its actions are severely limited. It can provide information on directions, the weather, and the locations of nearby restaurants. REEM can carry small packages and has a computer touchscreen that allows for a person to communicate via videoconference with a human police officer.
This is just one of the major developments that makes up the Smart Dubai 2021 Strategy, which aims to utilize smart technology to make Dubai one of the most technologically innovative police forces in the world. Other services that are part of this plan include the Dubai Police App that helps users connect with the police force without having to go to a police station, the introduction of autonomous mini-robotic cars that will be used for patrols, and providing officers with Aston Martins and Bentleys as squad cars.
Dubai's goal is that by 2030 robots will make up 25 percent of the police force. But Ramon López de Mántaras, a research professor at the Spanish National Research Council, believes that plan is a bit over-ambitious. He contends that it is feasible, but constructing a machine that is capable of making complex human-like decisions is very difficult. He stated:
For a human, the principle of proportionality or how to apply a just answer to each situation is already complex. For a machine it's almost impossible right now.
There are also questions about the legal ramifications that are inherent in introducing a robot that has authority. Some experts have started to delve into those questions–for example, the UCLA law review published a report on how we could handle the likely introduction of police robots in the coming years.
The report also suggested that there are many hypothetical scenarios that lawmakers and regulators can address now instead of waiting until the technology catches up in the near future. Such scenarios include whether a robot should be allowed to possess a weapon and if it's allowed to fight back when threatened. Researchers also need to determine whether introducing robotic police will increase social inequality and distrust that currently exists between the police and large subsets of the population.
These questions obviously don't need to be answered right now, as the police robots currently in place in Dubai are simple observant machines. But the technology is catching up fast and sooner or later robotic police officers may just become the new norm.