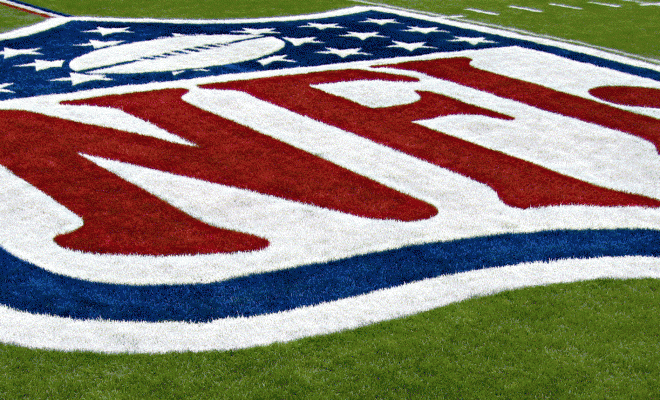 Image courtesy of [NFL News Desk Admin via Flickr]
Sports
DEA Raids NFL Teams After Sunday Games
By
|
Hey y'all!
I love a good football story, but I am a little bit tired of all of the crappy ones coming out of the NFL these days. Ray Rice likes to hit women, Adrian Peterson is suspended for the remainder of the 2014 season, and now the DEA raids teams at away games.
The DEA showed up unannounced on Sunday after several games to check on the visiting teams and medical staff. The San Francisco 49ers' staff was checked at MetLife Stadium in New Jersey after playing the New York Giants; the Tampa Bay Buccaneers' staff was checked at the Baltimore-Washington International airport after playing the Redskins; and the Seattle Seahawks confirmed via the team's Twitter account that they were spot-checked as well after they played at Kansas City against the Chiefs.
"DEA agents are currently interviewing NFL team doctors in several locations as part of an ongoing investigation into potential violations of the (Controlled Substances Act)," Drug Enforcement Administration spokesman Rusty Payne said Sunday. Of course there were also no arrests because we all know that would be plastered all over the news. Does this show that the NFL is doing what it's supposed to be doing? Surprise, surprise the NFL might actually take something seriously when it comes to its players!
The DEA claims that the teams involved were not specifically targeted, but rather they were chosen because they were travelling and the DEA wanted to see if visiting clubs were in compliance with federal law. DEA agents requested documentation from the visiting teams' medical staffs for any controlled substances in their possession, and for proof that doctors could practice medicine in the home team's state.
The investigation was triggered by a lawsuit filed in May on behalf of more than 1,200 former NFL players going all the way back to 1968.
The lawsuit alleges that the NFL and its teams, physicians, and trainers acted without regard for players' health by withholding information about injuries while at the same time handing out prescription painkillers such as Vicodin and Percocet and anti-inflammatories such as Toradol, to mask pain and minimize lost playing time.
The NFL is also trying to finalize a $765 million class-action settlement reached in August 2013 over complaints by thousands of former players that the NFL concealed the risk of concussions.
I have a hard time wrapping my head around certain lawsuits. Guys, if a team doctor is handing you drugs and you feel uncomfortable with it, why not just say no? Or get a second opinion? You do have the right to refuse treatment and see another doctor outside of the NFL world. You might have to pay for the visit yourself but I'm pretty sure you make enough to afford a visit to a doctor who will tell you the truth and let you know what you should be on. I understand that the team physicians are supposed to be there to help out the players, but let's be honest about where the loyalty really lies. Players don't sign those big fat checks those doctors are cashing.