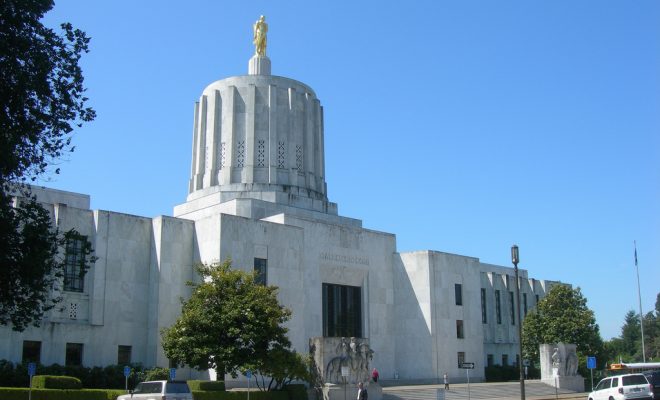 "Oregon State Capitol" Courtesy of Jimmy Emerson, DVM; License: (CC BY-NC-ND 2.0)
Cannabis in America
Oregon Passes Bill to Protect Marijuana Consumers' Personal Information
By
|
State lawmakers in Oregon passed a bill on Monday that would increase protections for the personal information of marijuana consumers. Oregon is the latest state to propose legislation intended to defend against stricter enforcement of the federal marijuana ban by the Trump Administration, something Attorney General Jeff Sessions has indicated is a possibility. The bill attracted bipartisan support, passing by a vote of 53-5.
If Democratic Gov. Kate Brown signs the proposal, which she is expected to do, marijuana shops would no longer be able to collect consumers' personal information–names, birthdates, home addresses, and so on. Unlike Alaska, Colorado, and Washington State–the other three states where recreational marijuana is actively being sold–cannabis shops in Oregon can collect this information in a database without the customer's consent. Businesses use the information largely for marketing purposes.
According to the bill, shops would have 30 days to destroy the information they have on record; they would be barred from collecting information in the future. States that have legalized marijuana in some form have taken steps in recent weeks to protect against any forthcoming crackdown by the Trump Administration. Last week, California–which legalized recreational marijuana last November–introduced a bill that would prohibit local law enforcement authorities from collaborating with federal drug agents.
Last week, the governors of Alaska, Colorado, Oregon, and Washington sent a letter to Sessions and Treasury Secretary Steven Mnuchin, asking for clarity on the administration's enforcement stance. Sessions responded that marijuana will be included in a broad Justice Department crime-reduction initiative. While his past is littered with anti-marijuana comments, Sessions has not explicitly stated how he will enforce the federal ban. He recently said marijuana is "only slightly less awful" than heroin.
In addition to protecting consumers against an invasive business practice, the proposal is meant to curtail requests by federal authorities, who, if unleashed by Sessions, could penalize distributors as well as consumers, even in states where the drug is perfectly legal. "Given the immediate privacy issues … this is a good bill protecting the privacy of Oregonians choosing to purchase marijuana," said state Rep. Carl Wilson, a Republican sponsor of the bill.