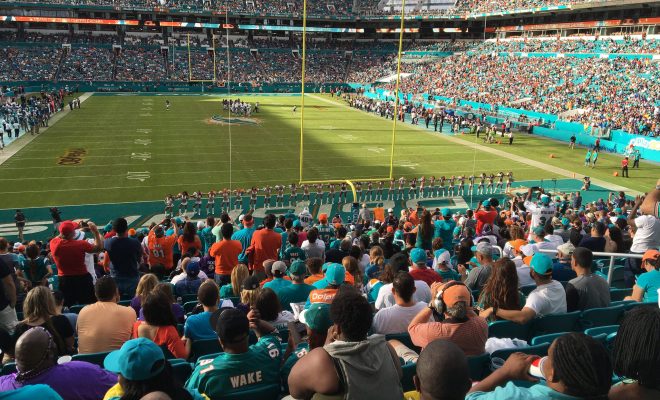 Image courtesy of [Julie, Dave & Family via Flickr]
Sports
More Athletes Take a Knee During the National Anthem: Who Will be Next?
By
|
Players on the Miami Dolphins are the latest athletes to protest police brutality by not rising during the national anthem. Last week during the season opener against the Seattle Seahawks, Arian Foster, linebacker Jelani Jenkins, receiver Kenny Stills and safety Michael Thomas knelt when the anthem was played; Foster, Stills, and Thomas also knelt today before playing the New England Patriots.
The Dolphins players were continuing a protest started by Colin Kaepernick of the San Francisco 49ers. Both Kaepernick and his teammate Eric Reid took a knee during the anthem at their game earlier today. Kaepernick has discussed his inspiration for the protests a few different times, including making the following statement to NFL Media in late August:
I am not going to stand up to show pride in a flag for a country that oppresses black people and people of color. To me, this is bigger than football and it would be selfish on my part to look the other way. There are bodies in the street and people getting paid leave and getting away with murder.
Other athletes who have joined in on Kaepernick's protest include Brandon Marshall of the Denver Broncos, and soccer player Megan Rapinoe. Rapinoe has knelt during the anthem while wearing her U.S. uniform; she is believed to be the first player in international soccer history to not stand for her nation's anthem.
These protests haven't come without a cost. The Dolphins will have their first home game of the year next week, and the head of the local police union has asked the police to withdraw their detail until the players stand for the anthem. Local union president Jeffery Bell told the press:
We've asked the deputies and the Broward Sheriff's Office not to do the details anymore.

I respect their right to have freedom of speech. However, in certain organizations and certain jobs you give up that right of your freedom of speech temporary while you serve that job or while you play in an NFL game.
As the football season continues, supporters and critics alike will surely keep a close eye on which players protest the national anthem.