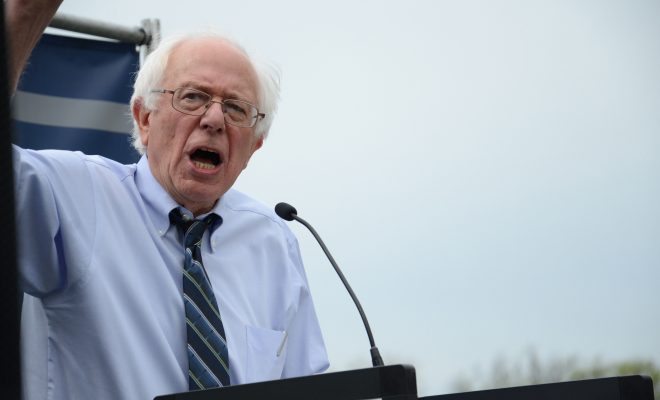 Image courtesy of [AFGE via Flickr]
RantCrush
RantCrush Top 5: May 26, 2016
By
|
Welcome to the RantCrush Top 5, where we take you through the top five controversial and crazy stories in the world of law and policy each day. So who is ranting and who is raving today? Check it out below:
Will the #BernieTrumpDebate ever happen?
Looks like the #BernieTrumpDebate is one big pipe dream. Donald Trump told Jimmy Kimmel last night that he'd love to debate Bernie Sanders for charity. Now that would be great TV! While many sources say the debate will never happen, seems like Sanders is up for the challenge:

Has Casey Anthony been outed by her attorney-slash-lover?
Remember Casey Anthony? The Florida woman accused of killing her young daughter is back in the news. New documents report that she paid her defense attorney, Jose Baez, with sex. What's more? Baez supposedly ratted out his client, saying she actually did kill her daughter. Anthony was found not guilty in 2011. We'll see what this new information does for her so-called innocence!
Years later, Casey Anthony and George Zimmerman are making headlines. smh #Florida pic.twitter.com/ppWYMwI5Lt

— Gavin (@renovargas_) May 26, 2016
Elizabeth Warren Hits Trump Right on the Money
Warren seems to have made it her personal mission to make sure Trump never reaches the White House. At the Center for Popular Democracy, Elizabeth Warren and her "goofy" self took to the mic to slam the presumptive GOP nom, calling him a "small, insecure money grubber." Ouch! The mudslinging has never been more real!

Taiwanese president criticized for being single…Seriously?
These days women are criticized for pretty much everything, especially women in powerful positions. This week a Chinese military official criticized Taiwanese president Tsai Ing-wen for being unmarried, claiming she was "extreme" and "emotional" because she didn't have a husband. Should Tsai's relationship status influence her politics? NOPE. Should China mind its business? YAS. Keep stuntin' Ing-wen!
Taiwan president accused of being "extremist" and "erratic" because she's single: https://t.co/NPhhu96dJj pic.twitter.com/Z8YV8WSSpm

— Women in the World (@WomenintheWorld) May 25, 2016
Marijuana Legalization is on the Come-Up in W. Virginia
Delegates in a West Virginia special budget session introduced a bill legalizing marijuana in the state. The bill would decriminalize the drug and permit use, growth, and possession of certain amounts by those over age 21. West Virginia faces a financial crisis and the hope is that legalization would alleviate the money problems.