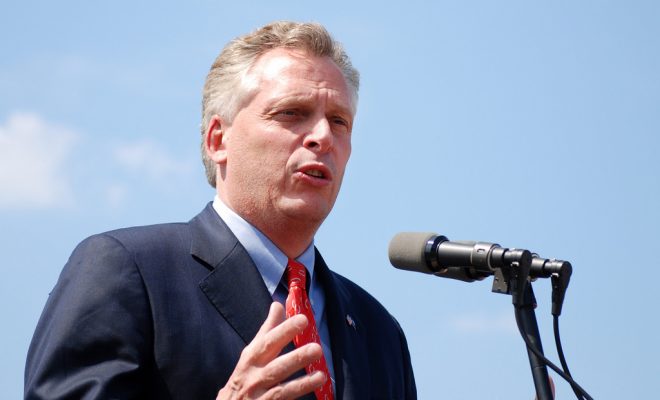 "McAuliffe" courtesy of Kate Wellington; License: (CC BY 2.0)
RantCrush
RantCrush Top 5: July 6, 2017
By
|
Welcome to RantCrush Top 5, where we take you through today's top five controversial stories in the world of law and policy. Who's ranting and raving right now? Check it out below:
Somehow, Louisiana Congressman Clay Higgins thought filming a video for his re-election campaign inside a gas chamber in Auschwitz was a good idea. Higgins is no stranger to controversy: last month he said that the U.S. should hunt down and kill all Islamic terrorism suspects. In the video clip, he talked about the importance of homeland security and making sure the country is safe from "the evils of the world."
Negative reactions were swift. The Auschwitz-Birkenau Memorial and Museum denounced the video, tweeting that the concentration camp is "not a stage."
Everyone has the right to personal reflections. However, inside a former gas chamber, there should be mournful silence. It's not a stage. https://t.co/AN5aA1bYEU

— Auschwitz Memorial (@AuschwitzMuseum) July 4, 2017
Some people questioned whether Higgins was aware of the context–the brutal genocide propagated by the Nazis was not an external threat but an internal one. One Twitter user wrote that Auschwitz should also stand "as a reminder of what demonization of people by the state can lead to." The U.S.-based Anne Frank Center denounced the video in harsh terms, calling it "a global disgrace." Yesterday, Higgins apologized and said that his intent was to remind people that evil exists, which most of us are all too aware of already. "I have retracted my video…and my sincere apology for any unintended pain is extended," he said in a statement.
DISGUSTING. @RepClayHiggins your infomercial at Auschwitz a global disgrace. Apologize. Get sensitivity training or a new job. #NeverAgain pic.twitter.com/ddjf7EhwMc

— Anne Frank Center (@AnneFrankCenter) July 5, 2017