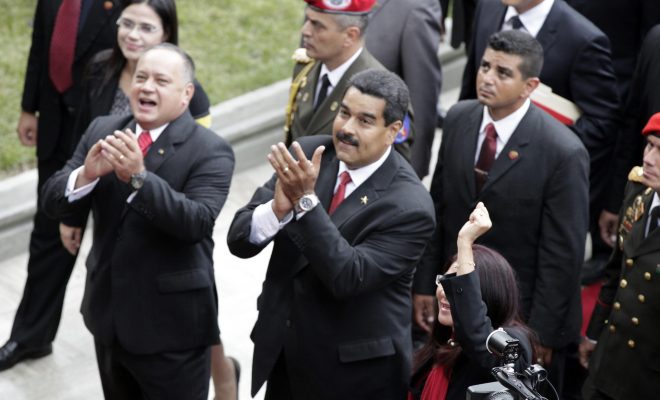 Image Courtesy of Xavier Granja Cedeño; License: 

(CC BY-SA 2.0)
World
U.S. Imposes Sanctions on Venezuelan President: What You Need to Know
By
|
The U.S. imposed direct sanctions against Venezuelan President Nicolas Maduro on Monday, freezing his U.S. assets and barring Americans from conducting business with him. The sanctions came a day after a vote that expanded his powers, giving the international community fresh concerns that Venezuela is creeping from democracy to dictatorship.
"By sanctioning Maduro the United States makes clear our opposition to the policies of his regime and our support for the people of Venezuela," Treasury Secretary Steve Mnuchin said during a press briefing at the White House on Monday. "As we continue to monitor this situation we will continue to review all of our options."
U.S. officials reportedly considered enacting additional measures against Maduro, including banning imports of Venezuelan oil. But in the end, officials worried that halting imports of Venezuelan crude, which makes up about 10 percent of all U.S. oil imports, would unfairly punish regular Venezuelans. Maduro joins three other heads of state directly under U.S. sanctions: North Korean leader Kim Jong-un, Syrian President Bashar al-Assad, and Robert Mugabe, the 93-year-old president of Zimbabwe.
On Sunday, Venezuelans voted in a referendum on whether or not to dissolve the country's legislative body, the National Assembly, for a new, 545-member Constituent Assembly, entirely composed of Maduro loyalists. Maduro's opponents–not to mention Brazil, Colombia, Peru, Argentina, Chile, and Panama–saw the vote as illegitimate. The U.S. ambassador to the United Nations, Nikki Haley, slammed the vote on Twitter:
Maduro's sham election is another step toward dictatorship. We won't accept an illegit govt. The Venezuelan ppl & democracy will prevail.

— Nikki Haley (@nikkihaley) July 30, 2017
Opposition leaders in Venezuela, and millions of citizens, fear that the Constituent Assembly will be a vehicle for Maduro to re-write the constitution, giving him broader, incontestable powers.
Those powers are already bearing fruit. Early Tuesday morning, two prominent Maduro critics, Leopoldo Lopez and Antonio Ledezma, were reportedly taken from their homes by SEBIN, Venezuela's intelligence service. The opposition leaders' families posted on social media detailing their arrests.
Lopez's wife, Lilian Tintori, tweeted early Tuesday: "They just took Leopoldo from the house. We do not know where he is or where he is being taken. Maduro is responsible if something happens to him."
And in a video statement, Ledezma's daughter said: "He was in pajamas. We don't know where he was taken. A group of men came with their faces concealed and in camouflage and they took him. They have kidnapped him once again. We hold the regime responsible for his life and physical integrity."
Lopez and Ledezma are among Maduro's most vocal and influential critics. Lopez was detained in early 2014 for allegedly inciting anti-government protests. He was released from military prison to house arrest last month. Ledezma, the former mayor of Caracas, Venezuela's capital and the center of political unrest in recent months, is also a leading opposition figure.
As Maduro looks to cement his power, Venezuelans are growing increasingly desperate, struggling to obtain basic necessities like food and water. Since protests ratcheted up in April, at least 125 people have died; 10 people were reportedly killed during protests on Sunday. Maduro seems unfazed by the mounting unrest, the plight of his people, and the condemnation of the international community.
"If the empire's threats and sanctions don't intimidate me, nothing scares me," Maduro said on state television after Sunday's vote. "Issue all the sanctions you want, but the Venezuelan people have decided to be free and I have decided to be the president of a free people."